Brasserie Blanc, Leeds – Restaurant Review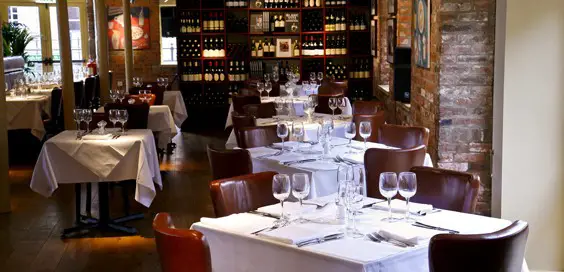 Brasserie Blanc, Leeds
Restaurant Review
We asked Sophie Basso to take her young son along to Brasserie Blanc in Leeds to try out their new children's menu…
Arriving in Brasserie Blanc at the child-friendly time of 4:30pm, we are greeted by an amiable front of house lady before being given the opportunity to go straight to our table or have a drink. Happily seated, our son looks at the new Henri Le Worm menu, a Henri Le Worm activity sheet and crayons. We have been to Brasserie Blanc a number of times before with our son but this time it is a much more upfront child-friendly experience. We have always found BB quite child-friendly in the past, but the experience is now tailored to fit with Henri Le Worm and his chums.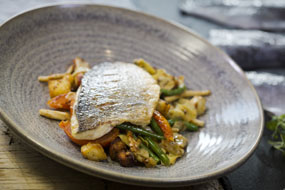 For my husband and I, it is always a pleasure to discover a restaurant with a focus on children. It allows the grown-ups to feel like they have been out for a meal as well, despite the rather early hour!
"Favourite fruits"
The children's menu is, frankly, great. He is given a nibbles starter almost immediately, once we have given the waitress our order.  The nibbles consist of slices of pear, pieces of cheddar, slices of baguette and a box of raisins. On first glance it does look like a lot for a four-year-old who is about to eat another two courses. But we ask for our son's main course to come with the adult's main course so he can take his time eating his starter. Apart from the pear, which just happens to not be one of his favourite fruits, he happily eats everything else. He happily intersperses his food with colouring-in the activity sheet and talking to us.
The main courses for the children are cheese pasta, beefburger, fish fingers, chicken goujons or a selection of cheese and cold meats. With each main comes a choice of potatoes and vegetables. There is plenty to choose from and enough to suit most palates. Our son chooses the cheese pasta, although we are trying to persuade him to have the fish fingers (for obvious reasons!) but to no avail. The cheese pasta, however, when it arrives is really flavoursome and has a béchamel sauce base with nutmeg. So despite the simple reference on the menu, the food itself is 'real cooking' and certainly what I'd expect from Brasserie Blanc.
"Consistently great"
For dessert, our son chooses the chocolate mousse option. There is also ice cream – but chocolate always wins the day. When the mousse arrives my husband and I taste it as all good parents should (!) and it is full of deep chocolate flavours and is neatly polished off. I think in retrospect it may be a little rich for small palates, but it was good news for us as we are able to assist.
The atmosphere in Brasserie Blanc is much the same as it always has been – friendly yet smart. As I mention we have been a number of times in the past with and without children and we find the staff, the food and the atmosphere consistently great regardless of whether you take children.  One thing I did notice with the Henri Le Worm menu was that the price is less that the Pizza Express children's menu which is a massive surprise. Welcome, but unexpected!
"Standards you expect"
My husband and I enjoy the winter 2014 menu and have three courses, all of which were good and of the usual Brasserie Blanc standard. We normally stay away from chain restaurants that carry a famous name as they rarely live up to the standard you come to expect of that chef. But Brasserie Blanc is one step ahead of the others. It has not allowed quality to be overcome by quantity.
If you have children, and would like an early evening out, then I would definitely recommend Brasserie Blanc and their Henri Le Worm children's menu.
Brasserie Blanc, Victoria Mill, Sovereign Street, Leeds, LS1 4BJ
Tel: 0113 220 6060