Cottons, Camden, London – Restaurant Review
Cottons, Camden, London
Restaurant Review
by Jen Grimble
On Chalk Farm Road, amongst the commotion of Camden's famous Stables Market, there is a bar. It has become synonymous with the traditions of the Caribbean. Cottons established itself as an original soul-food hub way back in 1985. Now celebrating its 30th birthday, the Rhumshack remains a pillar of the Camden social scene. There are potent cocktails, regular live music and an extensive menu of hearty island fare.
Competing in one of the trendiest and most populated neighbourhoods in London forced Cottons to find a niche. It shouts loudly over its rivals with exotic flavour combinations. It ushers in passers-by with colourful flags, flying over its outdoor canopy. This is certainly enough to encourage people inside. Once through the door, the décor, recently modernised, welcomes with its warm tones and quirky artwork. Three floors harbour wooden tables and dainty napkins, giving Cottons an unusual mix of sophistication and self-effacing ease.
The décor seems irrelevant as soon as you realise that 300 rum varieties sit behind the large central bar. The intriguing display of international spirits is what this Rhumshack prides itself on. Classic aged spirits and modern concoctions somehow make Daiquiri's and Mai-Tai's seem like the latest craze. But if you only order one drink, which seems unlikely, then it should be the Pina Colada. A heavenly combination of Havana Three Year Old Rum, Coconut Rum, Coconut Cream and Pineapple Juice, this dessert-like drink is irresistibly decadent.
"Vivacious"
With your drink in hand, opt to sample some other Caribbean delights, in the form of authentic soul-food. Cottons' own unique brand of "Nouvelle cuisine Caribbean," takes inspiration from traditional island cookery; staples from Jamaica, St Lucia and Margarita all feature on the menu. We start with a Trio of Fritters, made from black eyed beans, chick peas, sweet potato and pumpkin. These unique but complimentary croquettes are starchy but enjoyable, served on a bed of tangy coconut chilli chutney and palm heart salad. For £6.50, this flavour-punch is the perfect sharing plate to accompany a cocktail or two.
The fun really begins when the main dishes arrive. Cottons' Curried Mutton is a must. Tender meat sits in a thick, spicy sauce and is served with traditional "rice n peas", homemade coleslaw and fried plantain. This nourishing dish is £14.50 and will satisfy your heart and your stomach. For the same price the Boston Jerk Pork is a real winner. Consisting of marinated pork and chunky root vegetables, smothered in a zingy barbecue jerk sauce, this is savoury magic. From Chilli Sweet n Sour Crab, to Fish & Seafood Stew, the mains here are filling, vivacious and brimming with flavour.
"Air of calm"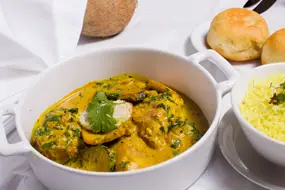 If you can face another bite then the Cottons' dessert menu offers an appealing selection. For £5 you can find yourself tucking into a Chocolate Tart or a Caribbean Trifle. In the latter, layers of fruit are soaked in dark aged rum, topped with cream and a crunchy ginger crumble topping, while the tart is a rich, indulgent slab of chocolate-heaven, served with poached pears. These sugary, alcohol-infused treats prove that Cottons has mastered the sweet as well as the savoury.
From Scotch Bonnets to gungo peas, fried yams to plantain, the food at Cottons is satisfying and homely. Not trying to be anything it is not, Cottons serves everything with a side of charm and a general air of calm. It offers the best of traditional Caribbean music, food and drink. This bar straddles the line between hip night spot and daytime foodie-zone. If 30 years of business is not enough to encourage you to go, then the idea of a perfectly shaken Mojito may just be.
Open Mon-Thu 5pm-12am; Friday 5pm-2am; Sat 12pm-2am; Sunday 12pm-12am
55 Chalk Farm Road, London, NW1 8AN
cottons-restaurant.co.uk/camden/