The Rise of Pop-Up Restaurants
The Underground Dining Scene
Imagine the scene: you are going to someone's house for dinner. You've got the address and directions and a nice bottle of wine to take. So far, so normal dinner party. But this one is slightly different. Chances are you won't know anyone else there. You've never even met the host before and you are going to shell out 25 quid plus for the privilege of eating three home-cooked courses. Welcome to the world of 'pop-up' or underground restaurants.
The principle is this: talented cook decides that entertaining friends is no longer enough to satisfy their talents. They also fancy making a bit of money (not much after costs) on the side. So what do they do? Once a month, they throw open their home to complete strangers. They transform their living space into a mock dining room and cook a (hopefully) delicious meal using only domestic equipment and non-professional help (think friends and family roped-in).
It's not a new concept. The trend has been going for years in countries like Argentina and Cuba. Such places have been used to supplementing small incomes. Now we are embracing the idea of these pop-ups here. Many are beginning to get their own cult following as well as coverage in the national press. Raved about frequently are The Underground Restaurant run by Ms Marmite Lover and The Secret Ingredient run by the equally impressively named Horton Jupiter. Or you could try the slightly more upmarket Savoy Truffle Club. The dinners are more than often themed, so you could find yourself sitting down to a seven-course Japanese-inspired tasting menu or a seasonal celebration of mushrooms.
"Enthusiasm for cooking has reached an all time peak"
So where did all this new-found passion for chef-ing come from? Well, aside from the massive popularity of sleb chefs (your Jamies, Ricks and Gordons) we have the huge cult following of shows like MasterChef, Come Dine With Me and The Restaurant. MasterChef has gradually moved from a sleepy teatime slot on BBC2 to prime time BBC1 and is now so popular it has spawned a Celebrity and Professional version.
Previous winners like Thomasina Miers have gone on to real success in the industry with regular television gigs and successful restaurants (she has just opened her second). Come Dine With Me has gained a huge cult following. For the uninitiated it follows a group of four or five people who each host a dinner party for the other contestants. Marks are given at the end of each meal and the winner gets a cash prize at the end of the week. The Restaurant, which pits teams of two people against each other as they attempt to win the prize of their own restaurant, is in its third series as more people step up to the huge challenge of keeping afloat (one previous winner has already had to close its doors).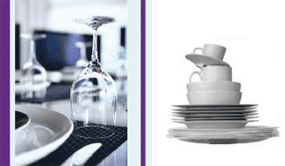 The central message of all of these programmes is aspirational, 'anyone can do it'. Unfortunately, half the fun of watching is realising just how few of them can actually cook, never mind cook to the level required to win. What's obvious though, is the enthusiasm for cooking has reached an all time peak, and being a chef has never seemed so appealing.
"It's completely illegal!"
So back to pop-ups. It all sounds good, so where's the catch? Well for one it's completely illegal! You might be able to have your mates over for dinner but selling food needs certificates such as health and safety and hygiene, as well as an inspection by the Food Standards Agency. It's also a good bet that the taxman isn't getting a look in. Oh and you can't sell booze without a licence either.
Underground restaurants can get round these problems in a variety of ways. Email, blogs and Facebook mean it's impossible to track who's doing what and where. Venues often move around at the last minute. Punters will receive instructions by mobile (similar to how underground raves operated in the nineties). Booze is often sold in the form of a raffle, so you pay for a ticket and win a bottle of wine, meaning no money has directly changed hands for the wine. Finally, word of mouth means there is a steady stream of sympathetic, like-minded people willing to be a paying punter. And there's been no reports of anyone being busted yet. So now you know how it's done, what's stopping you? Maybe you can be the star behind the next big 'pop-up'.
After all, anyone can do it…