What Is The Secret to The Popularity of Kia Stonic?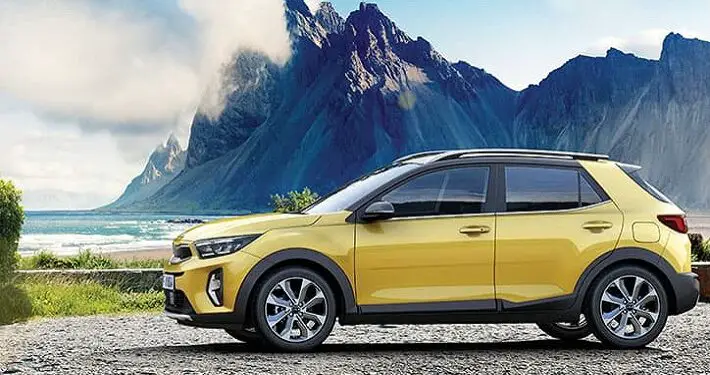 Kia Stonic is a small, compact yet powerful urban SUV with a mild-hybrid engine. It is designed in a way that it can accommodate up to five people very comfortably and still have ample cargo space. The Kia Stonic 2021 is mostly popular for its fuel-efficient design and lightweight. It is available in four different trim levels namely: Kia Stonic 2, GT-Line, Connect, and GT-Line S.
Engine, Performance and Comfort
Kia Stonic can never disappoint you when it comes to engine performance and offering comfort. Here you can find more information about the Kia Stonic. It has a powerful engine that delivers a dynamic driving experience. This offers the car a sporty but smooth handle.
The car has a mild hybrid powertrain that is powered by a 118 bhp 1.0 T-GDI engine, with 7-speed dual-clutch transmission, or a manual engine. This is a top-class engine system that delivers the best fuel economy. Whichever model you opt for, one thing that is sure is that the vehicle will deliver a great performance.
Not only this, the Kia Stonic 2021 offers a well-balanced suspension system that makes a bumpy ride the most comfortable one. Even when you're driving on a road that has rocky terrain, the car ensures that you have the most comfortable ride. When it comes to shock absorption and providing suspension, the Kia Stonic does a commendable job.
In addition to this, the Kia Stonic offers remarkable agility. The handling might be the best but sometimes suspension can start feeling unbalanced. The steering goes light and so does the gear change.
The Kia Stonic has a seven-speed automatic transmission that makes noise and vibrations when gears are changed.
Some of the many pros that the vehicle has to offer are: Seven seats fit for adults, a massive boot, which is well equipped. In addition to these prods, the Kia Stonic 2021 also has some cons to offer. They are: High trim levels are pricey, the hybrid engine isn't as fuel-efficient when compared to a Honda CR-V's, no lumbar adjustment with '2' trim.
Reliability and safety
The Kia Stonic 2021 has received an ANCAP safety rating of 5 stars. This was based on the 2017 crash test of Kia Rio since both the models are based on the same hatch. The car provides a lot of safety features which are:
● High Beam Assist (HBA) System
● Hill-Start Assist Control System
● Vehicle Stability Management (VSM) and Electronic Stability Control (ESC)
● Brake Assist System (BAS)
● ABS with Electronic Brakeforce Distribution (EBD) & Driver Attention Warning (DAW) System
● Gear Shift Indicators
● Lane Keeping Assist System (LKAS
● Forward Collision-Avoidance Assist
To provide additional safety to the driver and all it's passengers, the Kia Stonic provides twin front airbags, twin curtain airbags, twin side airbags, and a front passenger airbag cut-off switch.
All trims of the Kia Stonic are provided with Vehicle Stability Management (VSM) and Electronic Stability Control (ESC). This offers a stable grip irrespective of the road you're driving on.
The vehicle has been furnished with electrically adjustable folding mirrors with indicator LED lights. It also has auto headlight control and rear fog light as standard.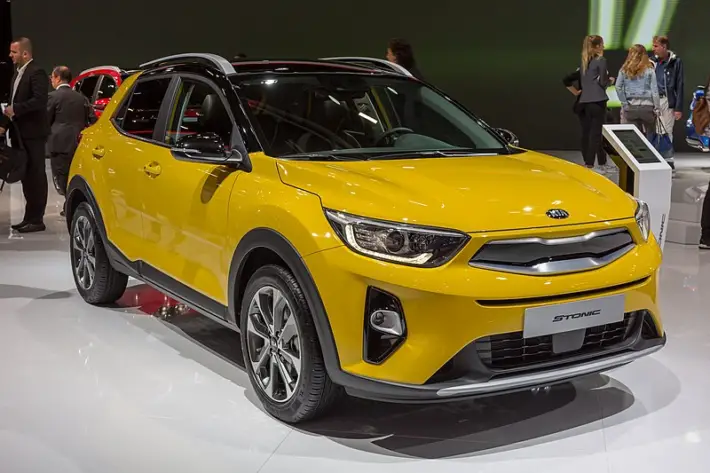 Interior
The interior provided by the kia stonic is sporty and highly sophisticated. It has Top Notch designs and is very comfortable. However, the manufacturers have used cheap plastic in some places that can off along their ability but does not fit in well the design of the car
The dashboard of the car is spacious enough but has all the relevant features; the steering has a leather finish and provision for tilt and telescope movements. In addition to this, all the models provide automatic air conditioning systems and automatic defog systems to make long journeys more comfortable.
The seating accommodates up to five people comfortably. The boot space can come up to 1,155 liters with the seats down and when the seats are up, the capacity is recorded at 352 liters. Furthermore, the overall dimension of the Kia Stonic is 1520 mm X 1532 mm.
The interior of the base model is decorated with black clothing upholstery. The Connect model has it's interior furnished with luxurious black and grey cloth and faux leather upholstery, with grey accents. The GT Line A even has heated front seats which adds in to the already luxurious Kia Stonic.
Even though the Kia Stonic is a small-sized urban SUV, the boot space offered by the car is pretty comfortable for a family to go on long drives with. It has a capacity of 352 litres which might seem less when compared to others but you always have the option to expand the space by folding down the 60:40 rear seats.
This technique comes in handy when you are in need of more cargo space. Once you do this, the car offers a mind-blowing space of 1155 liters which is more than enough to carry all sorts of heavy and light luggage.
The Kia Stonic comes with the latest and the most updated infotainment system. All the models are provided with an 8-inch display, 6-speaker audio system, 4.2-inch supervision color cluster display, Telematics (except the base trim), Bluetooth, Apple CarPlay, Android Auto, along with front and rear USB ports.
Price
Kia Stonic is a pretty affordable car. If you wish to benefit from all the features of an SUV but at a price below £25,000, then the Kia Stonic 2021 is the one to go for. The vehicle is perfectly priced and worth it with all the first class features and a premium warranty.
The base model of the series is Stonic 2 which started from £18,650. The next model is GT-Line which starts from £21,200 and has sporty handling. The next trim level is Connect who's price range begins from £21,650. Now comes the highest trim level: GT-Line S. This model's pricing starts from a large amount of £22,700.
If you want to opt for a small-sized urban SUV that offers a mind blowing performance, then the Kia Stonic 2021 series is the go to choice.