How Will Logitech Tap Enhance Your Workplace Collaboration?
Collaborative technology is fast becoming one of the most important features of the modern conference room; gone are the days of travelling long distances for meetings, these days it's all about connecting people around the world using intelligent platforms that help you to chat, discuss, and work together regardless of where you all are. As this becomes more and more important, the technology is becoming more varied and that in itself could cause its own issues if you don't have a way to connect cross-platform so that people can continue to use their favoured software – Logitech Tap helps to bridge the gap between users for a seamless and integrated collaboration experience. You can find out more about Logitech Tap below, so read on to see how this new technology can enhance the way that you collaborate in the workplace!
What is Logitech Tap?
The first question on everyone's mind: what is it? In short, Logitech Tap is an elegant, all-in-one conference room controller. This means it's a device that in itself isn't a collaborative device, but when used in tandem with other platforms and devices, it brings all of your collaboration mediums together in a more cohesive manner so that working together is easier than ever before. There's a 10.1-inch screen on a 14-degree angle and HDMI input built-in – this makes it easily accessible and much more pleasant to use when mounted on a table or wall! The touchscreen device is used to solve UI issues in video conferencing by integrating collaborative platforms such as Google Hangouts Meet Hardware, Zoom Rooms, and Microsoft Teams Rooms – these are the most common conferencing platforms, so you'll be able to continue using the software that you're familiar with, just in a more integrated and functional way.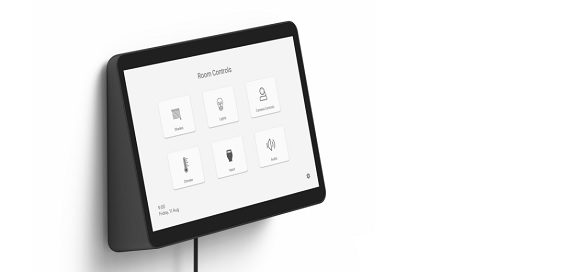 Where Can Logitech Tap Be Used?
Anywhere! It doesn't matter if you're looking to design a small huddle room or a large-scale conference space for companywide events, Logitech tap can be used to combine your collaborative platforms in one simple, user-friendly location. Whether you're video-chatting with colleagues or having a brainstorming session where you're using an interactive whiteboard, the Tap can be used as an all-in-one control panel to operate the entire meeting from – it's never been easier to host innovate, informative, and productive meetings at work! The device will most likely be part of a pre-set room design, so the Tap will add to the overall functionality, with a layout that's perfectly tailored to the room that it's used inside of; you'll get a conference room that's perfect for your company by doing it this way, so you've got the right atmosphere and tool at your disposal.
Why Does Your Conference Room NEED Logitech Tap?
Every day, there's new ideas and technology being developed to help companies get to, and stay at, the forefront of their respective industries and each of those industry-leading companies all have one thing in common – they keep ahead of the rest by being on top of the latest technological advances and embracing culture shifts rather than fighting against them and being left unceremoniously outdated.
Logitech Tap is the latest innovative technology on the market and naturally, it's all anyone can talk about, and rightly so – it's helping to simplify and bring together collaborative platforms in one sleek device so that your company and clients can seamlessly communicate without any unprofessional hiccups. With a starting price of $999, there's a pretty low price for initial entry use of the device, so it's easier for businesses of all sizes to capitalise on this device and begin to more effectively integrate co-operative working in your day to day operations.
The versatile Tap is built to an open standard, so you'll easily be able to integrate a selection of systems for room control, interactive whiteboards, and video systems into the way that you utilise it – the opportunities for expansion and advancement with this device are astronomical.
Besides the technical aspect of the Logitech Tap, you'll also be taken aback by the cutting edge modern design – it looks great in your contemporary office spaces and can be mounted on a table, riser, or wall to give you the easiest access points and best usability access you can to the anti-glare screen. Designed for reliable convenience, the Logitech Tap is one of the most exciting advances in collaborative technology for years and can help to bring your meeting spaces into a new age.