Titanic Spa, Huddersfield – Review
By Rachel Howard
It might be a sign of getting older, but the time really does fly by these days. Whether you're busy with family life, work and/or socialising, sometimes you need an excuse to just stop and smell the proverbial roses.
As luck would have it, this excuse came my way in the shape of a spa day at Titanic Spa in Linthwaite on the outskirts of Huddersfield. Always one to share the wealth, I invited Toni, one of my best friends, along for the treat. The last six months has been a busy time for both of us so a day of pure relaxation and "girl time" was definitely needed.
We set off first thing on a cloudy Monday morning, and following the spa's carefully instructed directions (don't try and use your sat nav in these parts!) we pulled up to the refurbished Edwardian textile mill just as the sun was breaking through.
As the UK's first established Eco-Spa, Titanic has invested £1.5m to create a carbon neutral building, featuring renewable energy sources and their very own fresh water spring that provides not only the spa itself but also the apartments (used for overnight spa breaks) and the bistro and bar. So there really is no reason to feel any guilt as you lay back and enjoy your day of relaxation.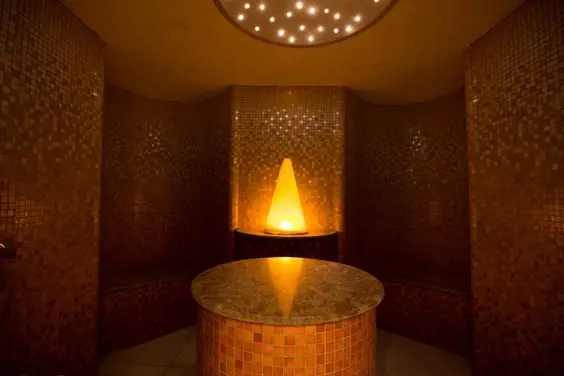 "Sense of calm"
We were warmly welcomed by the reception team and given our itineraries for the day – timings for our treatments, lunch etc. As we were given a tour of the facilities, we could feel the stresses of everyday life starting to slip away. A beautiful "spa" aroma filled the air, and although it was busy, there was a sense of calm, peace and serenity in the air – something that not all spas manage.
My last visit to Titanic was nine years ago, and although the main layout remained the same, it was clear that refurbishments had taken place in the interim years. The changing rooms were clean, modern and welcoming, with the lovely addition of Elemis products in the showers. The Bistro had undergone redecoration and there is now the addition of Bar 1911. Open from 6pm, this swanky bar serves cocktails, champagne, beer, wine and spirits and is available for all guests visiting on a day spa basis, overnight break or twilight spa evening.
"Ease tension"
With an hour to kill before our treatments, we enjoyed a drink in the Bistro before heading through to the relaxation area and the Heat & Ice Experience. The latter is what sets Titanic aside from many other spas. Where many might have a simple sauna and steam room, Titanic boasts six different heat rooms (plus warming foot baths), including an aromatherapy room, saunarium and a herbal infusion room. On the flip side, the ice experience encompasses a plunge pool (not for the faint hearted!), ice room and multi-sensory showers.
The idea is to mix up the heat and ice to aid circulation, benefit the respiratory system and cleanse and detoxify the body and mind. In addition to this, there is an outdoor hot tub and terrace and a 15m salt-regulated pool, meaning you could happily spend all day in the spa without even having a treatment. But… when in Rome!
I decided on the 55min Elemis Deeper the Deep Hot Stone Massage. My therapist, Rachel, showed me to the tranquil treatment room and explained exactly what the next hour would entail and asked me if I had any specific requirements. I can hand-on-heart say the next 55 mins were some of the most relaxing I have ever spent! The hot stones were worked deep into the muscles, helping to ease tension and put me into a deep, relaxed state.
"Peace and harmony"
With the addition of the gorgeous Elemis Frangipani Monoi body oil, this proved to be the ultimate full body massage and I floated out of the room feeling like a new woman! Toni chose the 55min Elemis Freestyle Deep Tissue Massage. This is a massage designed to ease muscle pain and aid stress relief, relaxation and balance. As I met Toni outside the therapy rooms, I realised we both had the same look of peace and harmony on our faces – bliss!
Next up was lunch in the Bistro. Titanic isn't a "health spa" per se, so the food on offer is filling, delicious and can be as unhealthy as you like! We both enjoyed a dish of cous cous, sausage and vegetables, followed by a chocolate brownie and all washed down with a cappuccino and a glass of chilled Prosecco. We certainly didn't come away hungry!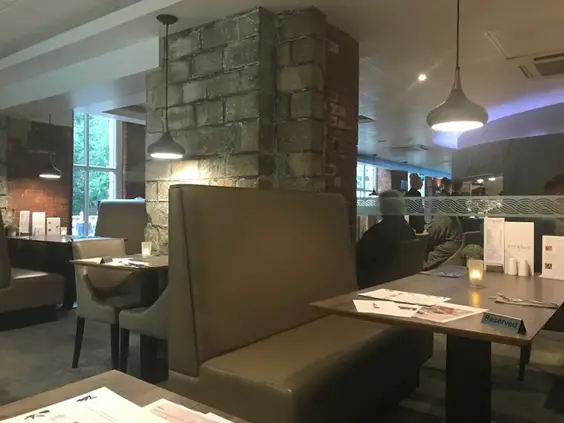 "Renewed vigour"
Lunch was followed by some time in the sunshine in the beautiful courtyard, followed by half an hour in the hot tub. We then fully explored the Heat & Ice Experience. Although the spa was busy, we never felt overcrowded in any of the rooms, everyone kept to the rules regarding noise (no shrieking hen parties while we were there!); we all seemed to appreciate that everyone was there for the same reason – complete relaxation.
After another quick drink in the Bistro, it was time to drag our soothed bodies back to the changing rooms and then hit the road. If you can, I would definitely suggest taking advantage of the luxury apartments and treating yourself to an overnight spa break – driving home in that much of a comatose state is probably not to be recommended!
Whether you're going as a couple, with friends, for a special occasion or just "because you can", you can't go wrong with a few hours (or more!) at the Titanic Spa – excellent facilities, great customer service, delicious food and the end result? Two very happy ladies who were now more than ready to face the world with a renewed vigour… blissful.
Titanic Spa, Low Westwood Lane, Linthwaite, Huddersfield, HD7 5UN
Day Spa Arrival Time: 8.30-9.30am. Day Spa Departure Time: 6pm. Treatments are scheduled between 10am & 6pm
01484 843544
titanicspa.com