Angela Langford Skincare – Review
Angela Langford Skincare
Review
by Rachel Howard
Skin and food… Two things that aren't automatically associated with each other. Yes, we all know that what you put into your body will often show in your skin – too many takeaways, alcohol and sugar will very quickly bring about clogged pores, dehydration and sensitivity. But a skincare brand designed by someone who has also appeared on BBC1's MasterChef… is it a recipe for success?
Angela Langford began her skincare journey while living in Spain and finding it difficult to access certain products. Being a keen cook, she decided the answer lay in designing her own products – after all, it was only another recipe, much like when she was cooking. After much studying, the Angela Langford brand was born.
I've tested out a range of her products over the last few weeks, and I'm pleased to report that they are real showstoppers.
"Recipe for happy and healthy skin"
Skincare reviews are something I am often wary of due to my difficult skin. I have dehydrated, often oily skin that can be prone to breakouts and sensitivity. Trying new products can lead to spots, aggravation and downright misery – but not with Angela Langford.
Having discussed my skin concerns, I was sent four tailored products to try – Balancing Act daily moisturiser, Balanced & Beautiful face oil, Tone Up purifying skin tonic and Sweet Cheeks balancing and cleansing face wash.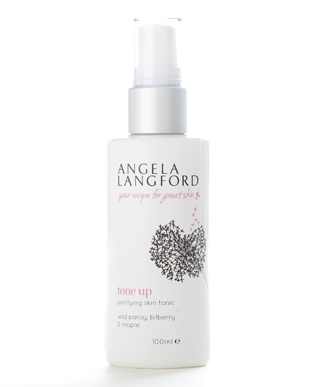 The key here is balance. As Angela explained, if I dry my oily skin out too much, it will only produce more oil. So trying to balance levels of hydration and moisture is the recipe for happy and healthy skin.
"Natural tonic"
Starting with the Sweet Cheeks cleanser, my skin immediately took to the lightweight formula. When used at night it took my makeup off with ease, leaving my skin cleansed, supple and with no hint of dryness that can occur with harsh, soap-based cleansers. Morning cleansing was a joy thanks to the beautiful fragrance that helped to wake me up and invigorate me for the day ahead. Key ingredients include roses, cypress, neroli, papaya and jojoba, all of which help to calm, cleanse and stabilise oil production leaving skin radiant and happy.
Cleansing should be followed by toning, in this case Tone Up skin tonic. Most importantly, this is not an alcohol-filled astringent that stings the skin – the worst nightmare for someone with sensitive skin. This is a natural tonic of quality essential oils, wild pansy, comfrey, yarrow and a number of AHAs (alpha hydroxy acids) – natural exfoliators that help to shed dead skin cells leaving skin smoother and more radiant. When sprayed over a cleansed face, this beautiful product left my skin feeling soft, refreshed and balanced.
Next up was the product I was most wary of – Balanced & Beautiful face oil. As someone who struggles with oily skin, adding extra oil can feel very alien. Almost like you're asking to wake up with breakouts the next morning. However, this isn't an oil in the traditional sense of the word. It's not heavy and doesn't sit on the skin clogging pores.
"So light"
Its lightweight formula has been designed specially for normal, combination and oily skin types. Rather than adding excess oil, it helps to restore your skin's natural balance, quickly sinking in and getting to work in the fight against ageing, oversized pores and issues with skin tone and texture. Like all of Angela's products, the essential oils not only feed your skin, but also your senses. The fragrance is beautiful – very spa-like, it really is a joy to add a few drops of this luxurious product to your daily skincare routine.
The last step in my routine was the Balancing Act balancing and anti-ageing daily moisturiser. Again, designed for those with combination and oily skin, this is marketed as being "the recipe for perfect balance and hydration". Another lightweight formula, this moisturises far more effectively than you would believe by the texture.
It's so light and easily absorbed but nourishes the skin like a rich moisturiser, but without any stickiness and residue. Chai seed oil smooths fine lines and wrinkles and improves the elasticity of the skin. Oil production is balanced by willowherb, and hyaluronic acid hydrates and plumps the skin ready for makeup application – although with skin looking this good you may decide to go without makeup!
"Brave move"
It should be noted that I have only tested the products that were tailored to my own skincare requirements. Angela Langford caters for all skin types with a wide variety of cleansers, moisturisers, exfoliators, eye creams and serums; plus a selection of body washes.
Skincare is such a huge market these days, be it anti-ageing products, cult "YouTube-approved" ranges or designer ranges that will break the bank for just one pot of moisturiser.
It's a brave move for one woman to decide to launch her skincare into this cut-throat sector. But in my opinion this is a risk that has definitely paid off. A brand that has natural products at its heart, and actually does what it says on the tin – at a competitive price – that has to be a winning recipe.
More info: angelalangford.com