Angela Langford Bloom and Glow – Review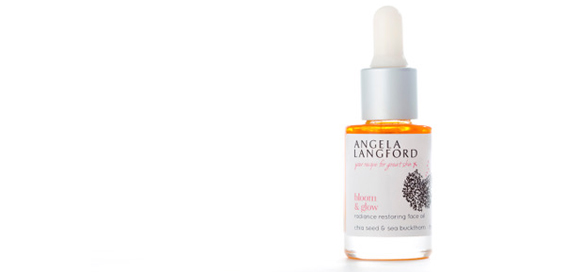 Angela Langford Bloom and Glow
Review
by Rachel Howard
Winter… nights in front of the fire, long walks out in the snow, Christmas… the season conjures up feelings of warmth and cosiness, but as well we know, it can also play havoc with our skin. A mix of cold fresh air, central heating and air conditioning can find our faces battling against dryness, irritation and imbalance.
But do not fear… I believe I have stumbled across a magical solution to all of the above. Angela Langford skincare is a brand I first came across last year and was mightily impressed with the range of products I tried. For a relatively small brand, this cruelty-free organic skincare company really packs a punch not only with the range of products, but also with the ingredients used.
The miracle in a bottle (as I like to call it) is Bloom and Glow radiance restoring face oil. As someone who suffers from dehydration and oiliness, I have often been wary of using face oils, for fear of exacerbating greasiness and spots. However, having tried another of Angela's oils last year (Balanced and Beautiful) I knew I would be in safe hands. But nothing could have prepared me for the results and the speed at which I noticed a change in my skin.
"Balance of moisture has definitely improved"
Bloom and Glow contains a plethora of ingredients that promote repair, healing and nourishment. Natural sources of Vitamin E fight against premature ageing, Q10 works as a regenerating antioxidant and Evening Primrose aids skin cells in retaining moisture. Furthermore, chia seed, rosehip and jojoba are highly balancing ingredients, helping to not only rebalance the skin, but also improve elasticity and reduce fine lines and wrinkles. For those with irritated and sensitive skin, chamomile and sea buckthorn help to calm and soothe alongside neroli that promotes skin regeneration.
I have been using this oil for a month on a twice-daily basis. In a morning I add a couple of drops to my usual moisturiser, and at night I massage a few drops into freshly cleansed skin. The powerhouse ingredients come together to form a beautifully scented oil that is incredibly light in texture and soaks into the skin within seconds. The night time application has become a beautifully relaxing ritual that I'm sure has even helped me drift off to sleep in a more relaxed state. Within a few days of trying this oil, I was elated to wake up to non-greasy, calm and smooth skin. The balance of moisture has definitely improved, I have noticed a reduction in acne flare ups and my makeup goes on with ease and lasts longer throughout the day. I can say with certainty that this is a product I shall continue using for some time to come.
Another bonus is one of Angela Langford's unique selling points – the ability to order a personalised sample pack from her website. After answering a number of questions about your skin type, issues and requirements, you can try a selection of products chosen by Angela herself especially for you. All you need to pay is P&P. It's the perfect way of trying out this fabulous brand and starting on your road to healthier, happier skin.
I can't recommend Bloom and Glow highly enough. It's a long time since I've tried a skincare product that has shown such great results so quickly. It really is a miracle in a bottle!