My Mother Said – Review – Sheffield Crucible Studio
By Eve Luddington, November 2019
Perhaps it needed a woman to introduce multi-tasking into playwriting. When Charlotte Keatley wrote My Mother Said in 1985, the play defied so many man-made theatrical conventions that few thought it could be staged.
Spanning 64 years of the 20th century, it explores the lives, relationships and choices of four generations of women in one family during an era of huge social change. Time moves to and fro, and scenes in which the four characters are of an age appropriate to the year are interwoven with 'wasteland' scenes where they interact as young children. Against expectations, the first production, in 1987, was highly successful. Now, My Mother Said, is a modern classic, translated into 22 languages.
With such a complex structure, it needs a clear-sighted creative team to take it from page to stage. The idea that it can be performed using a mix of British Sign Language (BSL), speech, taped dialogue and captions, seemed to me as a hearing person, a complication too far. But Sheffield Theatres' and fingersmiths's pioneering co-production, casting D/deaf women (those whose first language is either spoken English or BSL), is entirely comprehensible; it's also deeply engrossing.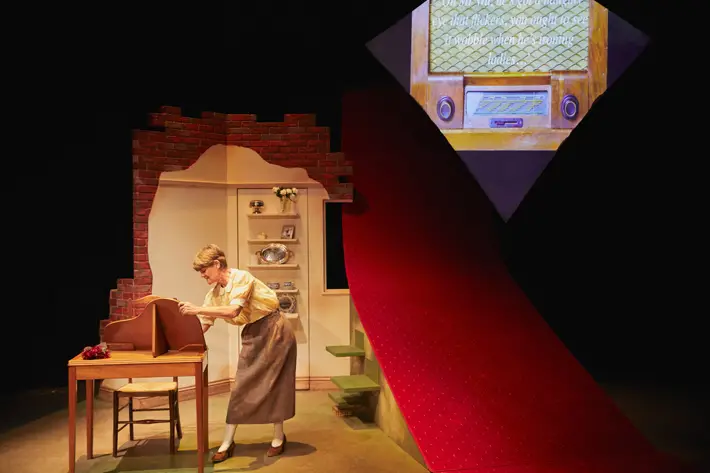 "Shook up my preconceptions"
The focus on D/deaf women and their language infuses every aspect of production, from the design to the audience experience. Director, Jeni Draper and her team have been supported by Charlotte Keatley herself to bring this fresh interpretation to life. I've never seen anything like it before. It was as if I was watching the evolution of a new artistic form which shook up my preconceptions and made me aware how, as a hearing person, I'm usually so casually dependent on sound and verbal tone at the theatre, perhaps even more than in everyday life.
I don't think I was alone. During the silent, signed and captioned sections, the intensity of audience concentration was palpable. When the D/deaf actors spoke, their gestures communicated more than their vocal inflections.
Sophia Lovell Smith's set design is imaginative and functional. Covering a relatively narrow area of the Crucible Studio's stage, perhaps to help cast members use what hearing they have, it's dominated by a slide of red carpet which neatly suggests both domesticity and a playground. Most inspired is a large kite-shaped section of sky suspended above which also screens the dates of the scenes and the captions. Photo projections, along with snatches of pop music and cleverly designed costumes offer cultural context; the lighting is subtle and effective. Ironically, the taped dialogue didn't work so well for me: I have an age-related hearing impairment and wish that the volume had been turned up!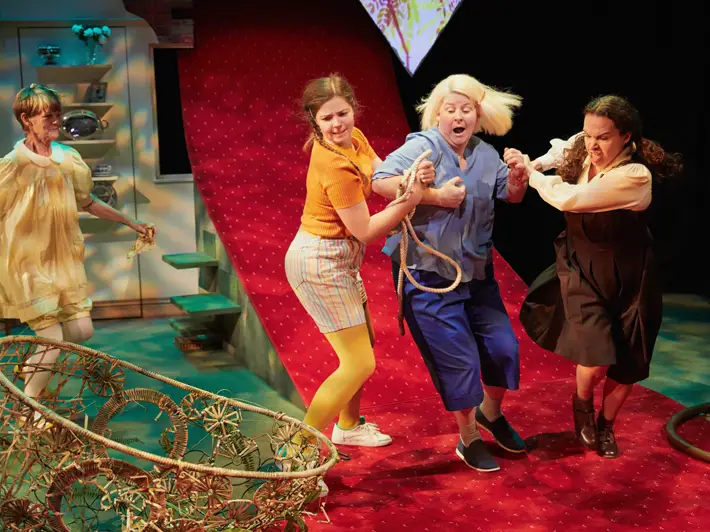 "Sharp honesty"
Jeni Draper, a sign language interpreter herself, directs with sensitivity and flair. Adding a supportive girl guide character, to help Dora make a phone call, is a resonant touch of genius. There were a few minor glitches, usually to do with synchronisation of the captions with the action, but that happens in mainstream subtitled performances too.
Overall, the production communicated very effectively Keatley's depiction of the 20th century's fast-changing social norms, and how women's experiences, expectations and decisions have been affected by them. The important wasteland scenes work well as a contrast, avoiding any sense of 'childishness' and instead presenting with sharp honesty kids who have yet to be strongly influenced by their conditioning.
I have performed in My Mother Said and know some of the demands it makes of the actors: the capacity to age, rejuvenate and change costume in rapid succession, just for starters. I can't fully imagine the extra challenges for the cast of this production.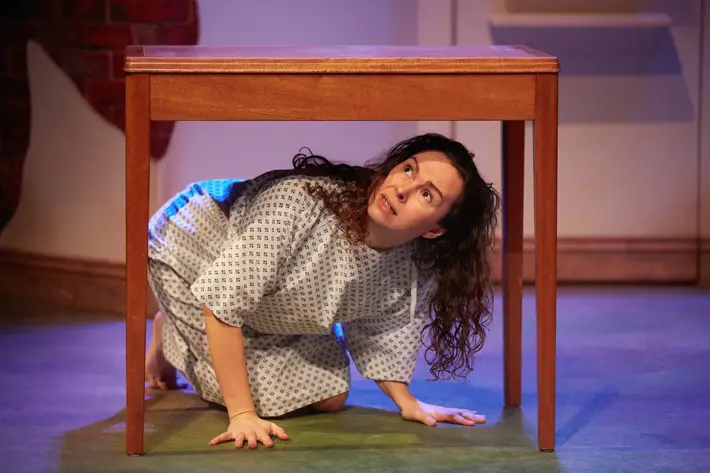 "Fizzes with excitement"
Ali Briggs plays Dora, the matriarch of the family, born in 1900. She tries to instil in her daughter the values she was taught: 'Work hard and you'll rise like bread, my mother said.' Ultimately, she realises that, 'You do what you believe is best for your daughter… and then you find it wasn't what she wanted. Or needed.'
Briggs has to present the character at ages 5 and 87, and many in-between – a mammoth challenge. I wondered if she was nervous at the start; she was more convincing later in the play. She conveys well the octogenarian Doris, resenting 60 years of unfulfilling marriage but given a new lease of life by her great granddaughter's freshness and freedom of expression. The play's final scene where, as a woman in her 20s, she fizzes with excitement, telling her (invisible) mother of a marriage proposal, is delightful.
Doris's daughter, Margaret, who marries an American serviceman, works her way into a highly respectable job and harbours life-affecting secrets, is played by Jude Mahon. She takes us to the very soul of a complex woman born before World War 2, emerging into adulthood during the post-war social revolution and emotionally stunted by her sense of responsibility. A poignant performance from a fine actor.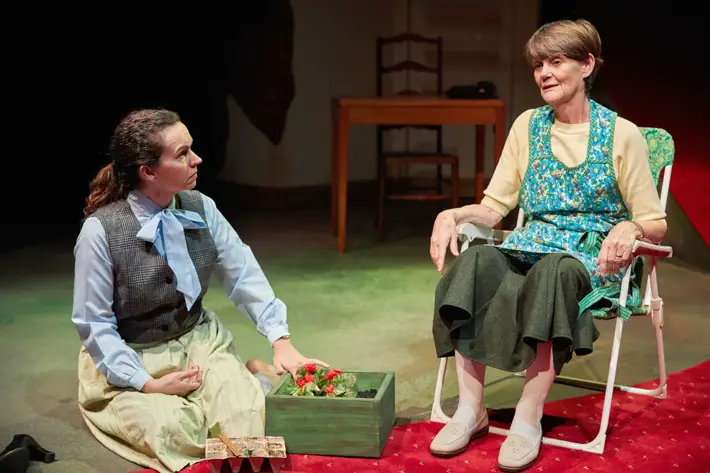 "Deeply sensitive"
Jackie who, as an imaginative nine-year-old in the wasteland scenes dreams up ways of killing 'All our Mummies', is played by E.J. Raymond, whose main language is BSL. Her gestures make us see and feel language, and to communicate Charlotte Keatley's beautiful writing in a way entirely new to me. My guts were wrenched by her portrayal of Jackie's inner turmoil: born in 1952, this character has to choose between pursuing her artistic vocation career and raising her own daughter, and to live with the consequences: society didn't cater for single, career-minded mothers 'in those days'.
Charlotte Keatley seems to have invented Rosie to embody the late 20th century's hope for a more equal society, where women have more freedom of choice than before. Lisa Kelly is a joy to watch in this, her first stage role. It's hard to believe she trained in Counselling, not acting. Kelly gives the uninhibited, deeply sensitive youngster great vivacity, spark and a clever eye for detail.
This is a brave and absorbing production, serving Charlotte Keatley's brilliant play very well indeed – and in the process shedding new light on it.
images: Mark Douet