Matthew Bourne's Swan Lake – Review – Hull New Theatre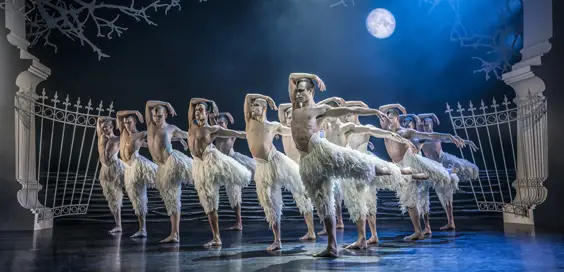 By Karl Hornsey, April 2019
There's every chance that I might run out of superlatives pretty quickly in this review. So let me start by putting my cards on the table and saying that Matthew Bourne's Swan Lake is arguably the finest production I have ever seen at the theatre. Any theatre. Any genre of entertainment. It really is that good.
While never knowingly blowing my own trumpet, this review simply cannot do justice to the quality of the performances, storyline and sheer genius in taking something so iconic, so important in the dance world, and producing something that surpasses the original. It has to be seen to be believed and everyone involved in Bourne's New Adventures company can be rightfully proud of what they have achieved.
I loved watching the 'traditional' Swan Lake a few years ago and have no hesitation in naming it as my favourite ballet, in the main, it must be said, for Tchaikovsky's wonderful score, but also for the sheer thrill of the good v evil conflict and the beautifully clean, crisp visual depiction of the 'swans'. But this really is something on a whole new level.
"Formidable guts and bravery"
While Bourne caused a sensation in 1995 when he unleashed what was then his hugely controversial adaptation onto an unwitting and, frankly, undecided world, this contemporary dance show deserves another viewing, whatever your initial opinion. There may still be the popular misconception that this is simply about replacing the female corps-de-ballet with male dancers, taking the lead roles and forming a particularly menacing and brooding bevy of swans. That in itself took formidable guts and bravery to bring to the stage, and the storm it created shouldn't be underestimated, but in this day and age the production should be recognised for so much more.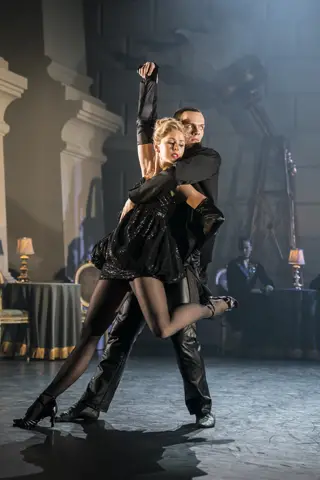 This is a modern retelling of the Swan Lake story, which retains many of the original threads, while bringing them into a new era and setting, adding all manner of different dance movements and genres to the mix and, rather surprisingly, more than a dash of good humour to proceedings. Yes it's still a tragedy, but that doesn't mean it can't entertain along the way. And it certainly does, including as it does nods to the work of Bob Fosse, West Side Story and even some funky disco-esque moves.
"Smouldering package"
Bourne is generally reluctant to reveal too much about the work and let the audience decide for themselves what they think of it. Meaning it's even more of a necessity to go along and see this, especially as one of the two leads is taken by Hull-born Liam Mower, who came to fame as Billy Elliot in the original cast of Billy Elliot the Musical, and here plays the tortured Prince, bringing a remarkable depth of emotion to the role.
The object of his confused desires and thoughts is The Swan/Stranger, played by Max Westwell. And this another point at which superlatives simply run out. Westwell is astonishing as The Swan when he first appears in the park as the Prince is thwarted in his suicide attempt, managing somehow to combine power, elegance, grace and sheer physical presence all in one smouldering package, and the scenes in which he's joined by around 15 other swans simply drips with menace and sends a shiver down one's spine. To then move into the role of the Stranger and simply own the stage as he sizzles and seduces all of those around him, marks him out as one to look out for in the future, as if this potentially career-defining performance isn't enough.
"Astonishing"
If this Swan Lake was simply about the story of the Prince and the Swan then that would be good enough. But this is about so much more than that, with the ensemble cast bringing the stiff machinations of the Royal family to life, with superb performances by Katrina Lyndon as The Girlfriend, Nicole Kabera as The Queen and Glenn Graham as The Private Secretary, and a simply wonderful scene set in a seedy nightclub that allows the cast to strut their stuff in a way that underlines and epitomises quite how different this is to the original Swan Lake.
With an astonishing set design courtesy of Lez Brotherston and perfect lighting by Paule Constable, this is a polished production that oozes class from every pore. Just go and see it, whether that be in Hull or not. It's well worth travelling further afield to catch it while you can.