Jack and the Beanstalk – Review – Lawrence Batley Theatre, Huddersfield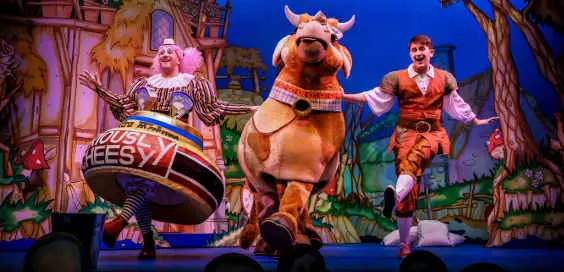 Jack and the Beanstalk – Review
Lawrence Batley Theatre, December 2017
by Steve Crabtree – @stevecrab
It's panto time at the Lawrence Batley Theatre, Huddersfield (oh no it… ah, I won't go there), and a foyer packed with excited kids – and equally as excited adults – are here to see this year's offering, Jack and the Beanstalk.
It's been 31 years since I last saw a pantomime. I'm both looking forward to, and intrigued to see one again.  And if the show is as colourful and sparkly as the curtain that's glistening away, then I think we'll be in for a fantastic night. As that curtain rises, the scenery in waiting is absolutely amazing. For the kids, it's magical – and it lights up everyone's face.
Fortuna, played by Heather Phoenix, says hello to the audience, and sets the scene and the storyline. And it's not long before Jack (Thomas Cotran) appears on stage. Cotran plays the role of Jack with a sweet, vulnerable nature and the children warm to him immediately. In fact, they promise to become his friends.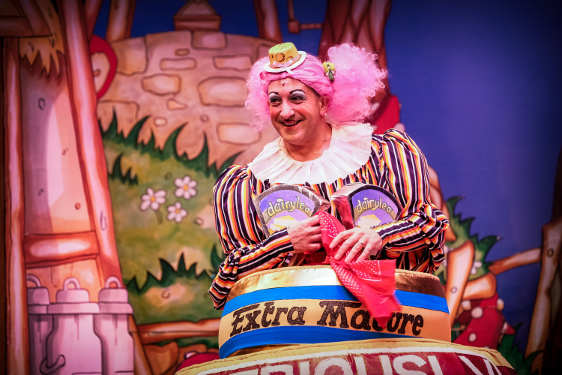 "An abundance of colour"
Jack's mum Dotty loudly makes her presence known as she soon bounds up on to the stage via the audience. Played by Robin Simpson, the panto dame is an abundance of colour, innuendo, bad taste clothing and not much grace and elegance!
We all know the story behind Jack and the Beanstalk, and Dotty and Jack are poor. They decide to sell Bluebell the cow to give them enough money to pay the recently increased taxes by the Giant, who sends Nightshade to collect the increase in funds. This is where we're introduced to James McClean, who plays the camp baddie brilliantly. He's evil, conniving, daft and the kids love to hate him. I love joining in the booing and hissing each time he flounces off stage to the Strictly Come Dancing theme tune.
In the story, which is about love and justice, we also have Jack's love interest – the beautiful Princess Jill played by Megan Turner. Her father – the powerful, yet somewhat clumsy King Crackpot is played by Declan Wilson. Jack wants to marry the Princess, and we wonder if he'll ever get his wish.
"Fast enough for us big kids."
So far, the show is a lot of fun, and is moving at a good pace. Not too fast for the children, but fast enough for us big kids. The whole audience have been in hysterics – and although I thought I would enjoy this pantomime, I didn't realise that I would absolutely love it. Nor did I think I'd be playing a full part in all the audience participation!
Maybe I just didn't go to enough pantomimes as a kid, and I'm making up for that now…?
The songs are great too. Classic and modern day chart hits are infused with words that fit the season and the story line. I have no idea if this is a common thing in panto or not, but I love how this nicely brings traditional pantomime in to the modern age.
"Lovely Touch"
Just before the finale, and after we all join in a rendition of 'Old McDonald Had A Farm', there's a lovely touch when Dotty and Fortuna read out the list of "Special Guests" in the audience, naming groups of children who've come together, and kids who are celebrating their birthdays.
This version of Jack and the Beanstalk has been directed by Joyce Branagh and her assistant Sameena Hussain superbly. The panto is the biggest show of the year for a theatre, and much credit goes to them and the wonderful cast who've done an astounding job here in Huddersfield.
What a wonderful evening. I bet the adults have enjoyed it just as much as the children have. Based on this one, I'm not going to leave it 31 years until I go and see my next pantomime.
It's a show I would highly recommend, with or without kids.
images: Andrew Billington