The Girl on the Train – Review – Bradford Alhambra
By Sandra Callard, September 2019
The phenomenal success in 2015 of Paula Hawkins' book, The Girl on the Train, quickly engendered a successful film, and now a stage production is on tour.
Samantha Womack, primarily of Eastenders fame, gives a strong and convincing performance as Rachel Watson, the rejected wife of Tom, who by now has remarried and has a child. Rachel is slowly sinking into depression and alcoholism and her job is hanging by a thread. Her commute to work takes her past the row of houses where her and Tom had lived, and which now accommodates Tom and his new wife and child.
In trying to get a glimpse of them she becomes mesmerised into watching a married couple of neighbours, whom she has barely known. They are affectionate and loving and emphasise all that Rachel has lost.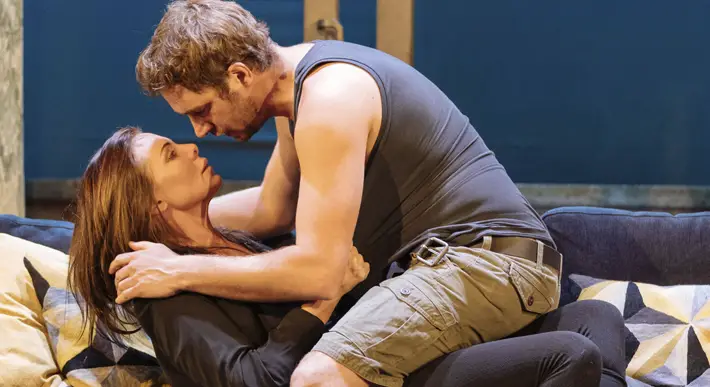 "Witty and clever"
One day she sees the woman, Megan, in a passionate kiss with a man who is not her husband. Soon Megan disappears and is subsequently found murdered and Rachel feels compelled to tell the husband, Scott Hipwell, and subsequently the police, what she has seen. Because of her drinking she cannot be trusted as a witness, but is compelled to find out for herself what has happened, in the course of which she loses her job.
Womack is first-class as the befuddled and desperate Rachel, and her sharp and humorous asides to those who challenge her are witty and clever, though perhaps not feasible in someone in such a confused mental state. Nevertheless they did provide amusement and laughter from an audience who seemed to rise above the dark and murderous themes of this thriller, which include domestic abuse, mental abuse and murder.
"Believable"
The two major male roles are well-chosen. Oliver Farnworth plays the murdered woman's husband with a believable sense of incredulity and Rachel's ex-husband, Tom Watson, is excellently played by Adam Jackson-Smith, as he sways bewilderingly between concern for his ex-wife and his present one.
The denouement is swift and satisfying, but with so few people as suspects it can hardly be astounding.
Before the show many were intrigued to see how the train sequences were accomplished, as this had been simple for both the book and the film, but stage presentation can be tricky. In fact it was remarkably simple. A film of a high speed train sped across the back of the stage as Rachel stood front stage before it, the speed of the train echoing in the flashing light and dark cast upon her figure.
"Terrific production"
Very simple and effective, although the people she was watching were shown separately. It worked very well and there were obvious signs of approval from the audience.
The three different genres of book, film and stage are so different in approach and execution that the same theme produces different expectations and experiences. For me the enjoyment quotient in this case has to be book first, film second and stage third. I like them all, but the decider for me was the heap of incident that was in both book and film but had to be cut out for stage, leaving almost the bare bones of the story intact.
Nevertheless, my companion at the theatre, who had not read the book or seen the film, thought it was a terrific production and thoroughly enjoyed herself. There's a lesson there somewhere.
images: Manuel Harlan