The Carole King Songbook – Live Review – Yeadon Town Hall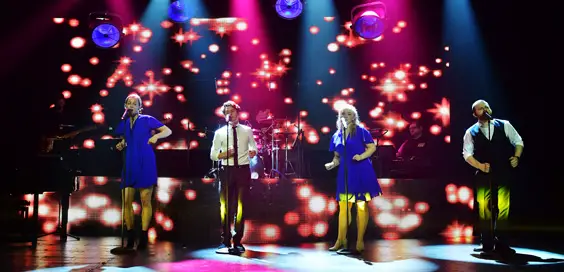 By Laura Whiteley, June 2019
Beginning with the timeless 'Beautiful' this tribute show to one of the great songwriters is glittery and occasionally splendid, although marred tonight by technical issues. A projected New York backdrop sets the tone nicely and although I'm no aficionado of Carole King's music, it was clear that most of the audience definitely are – and they seem to appreciate the delivery from the four main singers on stage.
A talented quartet of vocalists, Danny Dixon is obviously professionally trained and carries great charisma on stage. Kara Mottram is perhaps the strongest singer, with a lovely clear tone to her voice and Eve Rhianna Kitchingman makes up for less confidence with a touching vulnerability. The other singer, Tom Lilywhite, has to deal with a host of technical difficulties with his microphone that seems to take an awfully long time to fix. Like a trooper he battles through and somehow carries on. In fact, praise should be given for eventually making something light-hearted out of what could have been a disaster.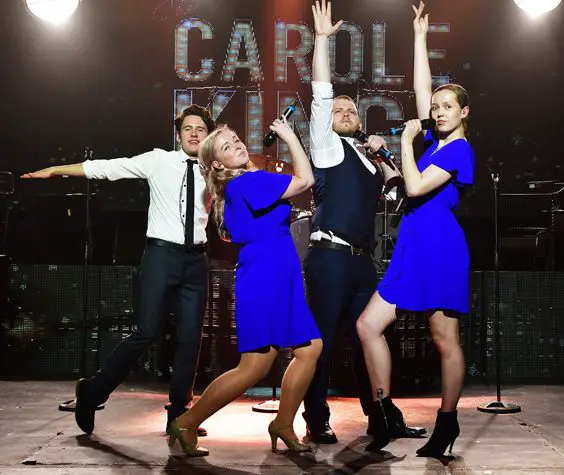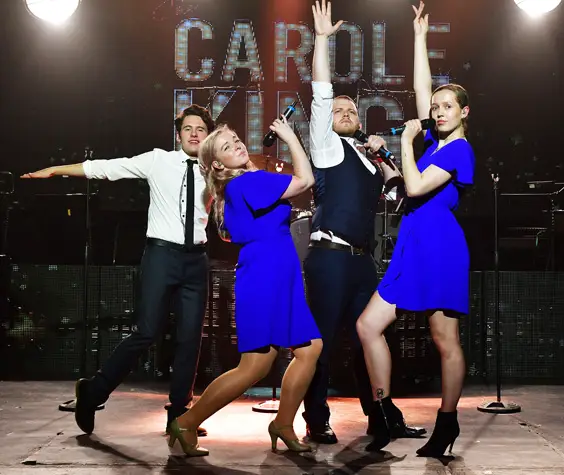 "Colourful and entertaining"
Plaudits too for the accompanying band of keyboardist, guitarist, bassist and drummer, who are all clearly skilled musicians who perform exceptionally well throughout.
Carole King, alongside her key writing partner Gerry Goffin, has written some of the most well-known songs of the last 50 years, many of them made famous by other artists. With this in mind, it's strange to see the Phil Spector-penned 'Da Doo Ron Ron' included in this songbook – and the pantomime-esque choreography that accompanies the track adds nothing.
Despite the dodgy dance moves, the brilliance of the songs manages to shine through in a colourful and entertaining way. '(You Make Me Fell Like) A Natural Woman' is brilliantly performed and The Drifters' 'Up on The Roof' is an absolute highlight.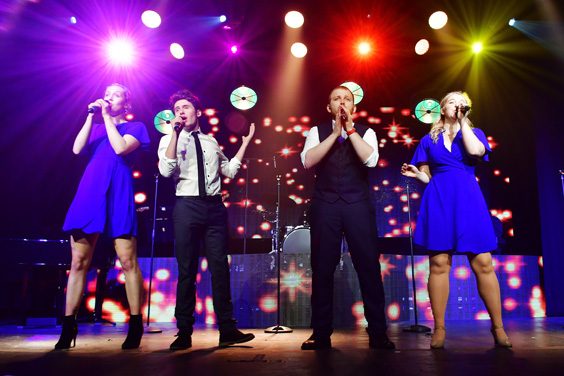 "Terrific soloing"
What perhaps makes The Carole King Songbook a little different are the short interludes between songs where performers tell the audience about Carole King's life and the motivations behind some of her songs. Who knew that Neil Sedaka's 'Oh! Carol' was inspired by Carole King? Or that she wrote a novelty song reply to him called 'Oh! Neil'!
Indeed, as the evening progresses I begin to like the show more and more. The dance moves take a back seat and we get to hear some terrific soloing that lets you appreciate the lyrics and the passion involved in the making of these wonderful songs.
'Child Of Mine', in a beautifully simplistic arrangement, brings a tear to my eye. As a mother, it's a very moving evocation of the love a parent feels for their child.
By the end of the show lots of audience members are up on their feet dancing, with more others clapping along. Proof enough that The Carole King Songbook does – eventually – hit the right notes.
images: John Waite Photography