Introducing: Birthday Girl
From Yorkshire based in Stockholm, new
sonic adventures…
YOUR NAME: James Corden.
BAND NAME: Birthday Girl.
WHAT DO YOU DO/PLAY? Bass.
HOW LONG HAVE YOU BEEN TOGETHER AS A BAND/PLAYING MUSIC? A fair few years, but in the last few years we've been working on it a lot more as shows came in.
GIVE US 3 REASONS WHY WE SHOULD TRACK DOWN, LISTEN AND DISCOVER YOUR MUSIC?
To discover music, you need to track down and take a listen. Then after that, you'll say, that'll do pig, that'll do. It would also really help us out a lot.
WHERE DO YOU SOUND BEST – FESTIVAL, CLUB, BEDROOM – OR SOMEWHERE ELSE?
Our music always sounds best in a bigger room, small rooms it can get a tad too loud. I think Leeds Arena is probably the perfect sounding venue for us, it's a belter of a venue that.
WHAT WAS YOUR FIRST…
RECORD? My memory is absolute garbage, let's say The Beatles' Revolver
CD? Sum 41 with all them faces on the front cover.
DOWNLOAD? Not the foggiest.
SO, WHEN IT ALL GOES RIGHT AND YOU'VE GOT A HUGE QUEUE OF HANGERS-ON AND A RIDICULOUS MANSION, WHAT WILL BE YOUR BIGGEST INDULGENCE, MUSICAL OR OTHERWISE?
Get some big fat speakers, and start blasting out records all day whilst drinking negronis. You know all them George Harrison videos he did in his mansion, my life would be like that. Absolutely everywhere.
SO, WHEN IT ALL GOES WRONG AND YOU'VE ACRIMONIOUSLY BROKEN UP CITING HUGE MUSICAL DIFFERENCES, WHAT DO YOU FALL BACK ON?
I'll fall back on my big fat arse and die due to heartbreak.
CITE SOME INTER-BAND MUSICAL DIFFERENCES…
We all pretty much like the same sh*t, and even if we don't give it a few weeks/months, we will start to like it. Believe it or not, I didn't get Khruangbin at the beginning, three weeks later I was like "you heard of Khruangbin".
WHO ARE YORKSHIRE'S FINEST IN CULTURE, SPORT AND MUSIC?
Judi Dench. God bless Judi Dench.
Nath at the Brudenell. Seriously, this guy. Delivering bands across a community for decades, legend.
All the bands that grind away day in day out in Yorkshire making the scene what it is. Music is nothing without these local bands and promotors giving the people what they want.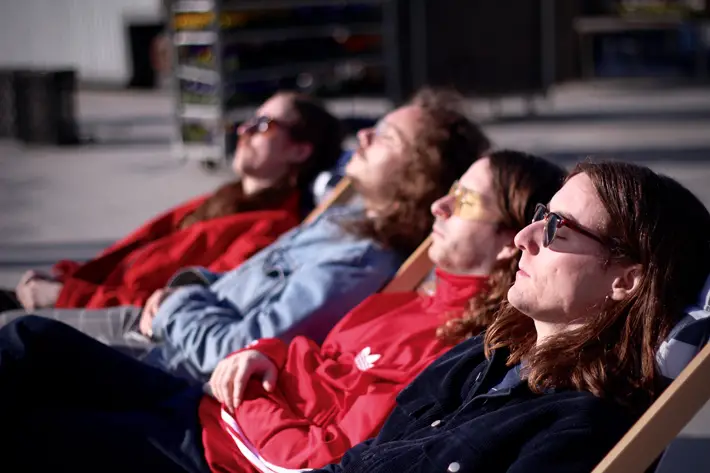 NAME YOUR SUPERGROUP – WHO'S PLAYING WHAT, WHO'S ON VOCALS AND WHO'S YOUR BEZ?
Ringo Starr – I don't give a sh*t what people say, The Beatles are nothing without him.
David Gilmour – No reason needed.
Alice Cooper – Cause it would be an absolute madness of a sound with him on vocals.
Prince – Because David Gilmour and Prince playing together is just ridiculous.
Lemmy – Why wouldn't you want Lemmy on bass?
They would probably break up within one minute.
GO SEE THIS FILM: Birthday Girl Tour Doc.
GO READ THIS BOOK: I'm very sh*t at reading.
GREAT LOST BAND/ARTIST: Gene Clark.
WOULDN'T BE CAUGHT DEAD SUPPORTING: Courteneers. I don't get it. A glamour version of Little Man Tate.
LONDON, L.A OR LEEDS?: Leeds, all, fuc*ing, day, long.
AND FINALLY… AS YOU LEAVE THE STAGE, WHAT ARE YOUR PARTING WORDS?
My life is brilliant, my love is pure.
For more info visit: facebook.com/birthdaygirlbirthdaygirl