A Gallery of Images from Yorkshire Photographer Dave Zdanowicz
Yorkshire landscapes, both rural and industrial feature in Yorkshire photographer Dave Zdanowicz's award-winning work…
Tell us about how you started in photography – was it a career, a hobby or something else?
I first became interested in photography when I downloaded Instagram onto my iPhone. I started following a few great photographers and it really opened my eyes to the artform. Around the same time one of my good friends was selling his DSLR camera and offered me a really good deal! I'm a sucker for a bargain and I've never looked back since. I've had my camera about two years and taken over 20,000 photographs in that time! Crazy. It's really opened my eyes to some amazing locations in Yorkshire I didn't even knew existed!
What appeals to you about the genre?
To me everything about landscape photography is great. There is nothing better than witnessing a majestic sunrise or sunset and having a great foreground in front.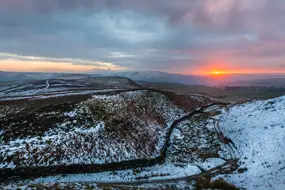 How do you go about looking for your landscapes – do you research or is it spur of the moment?
Mostly spur of the moment. I like to try and take shots no one else would think of taking. Of course, I'll see some pictures in a magazine or online and that inspires me to visit the location.
"I have a wishlist of destinations"
What is the most challenging part of being a photographer?
The cost of some of the equipment is ridiculous! I could probably trade in my kidneys and still not have enough to fund my wish list! The weather and traveling can also be a big challenge. I've set my alarm for 4am for some of the sunrise pictures.
Tell us about the image that won the Countryfile competition – how did that come about?
The picture which won the Countryfile competition is of my local park (Harold Park) in Bradford. I grew up two minutes away and spent most of my childhood there, so it's a special place for me. The competition was for a winter scene so I waited for a cold morning where the pond had frozen over and took a long exposure shot to create a really dramatic feel to the picture. Luckily I have a really big following on social media so I had a lot of people kind enough to vote for the picture.
Where do you plan to do for your future work?
I've got a wishlist of destinations I'd love to photograph: Ribblehead viaduct and the three peaks, Whitby, Robin Hood's Bay, Lady Bower reservoir, Grassington. The list is endless. Yorkshire is one of the greatest places for photography. So I'm spoilt in choice.
To see a gallery of Dave's Yorkshire landscapes, visit here.
All images © Dave Zdanowicz