Shed Seven – Live Review – Picturedrome, Holmfirth
Shed Seven – Live Review
Picturedrome, Holmfirth, November 2018
by Steve Crabtree – @stevecrab
Yorkshire indie-rockers Shed Seven bring life and energy in to the room wherever they go.  But the in the super-intimate surroundings of the Picturdrome in Holmfirth, things were a little more special.
The Britpop favourites sold the place out in super-quick time when their date was announced. And with the venue holding a modest 690 people, thousands of fans were disappointed to miss out on a ticket.
With a 9.00pm start, Rick Witter and the boys kicked off with 'Room In My House'.  It's become Shed Seven's staple gig-starter since album Instant Pleasures came out at the end of last year, and it's clear that it's become a firm fans favourite.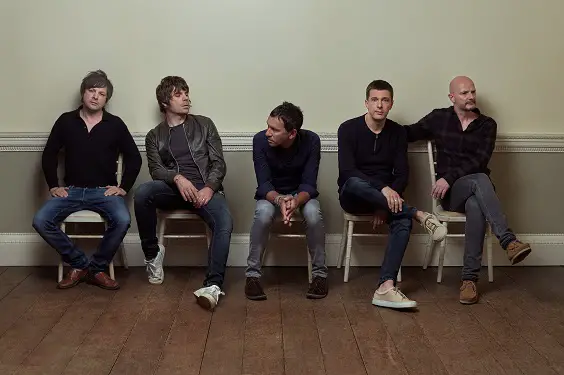 "Sounded incredible"
With no Shedcember tour this year, this was one of the last chances to see Shed Seven in 2018. And York's finest once again blew everyone away.  They played favourite after favourite, and hit after hit. "High Hopes" and "Going For Gold" were sang word for word by the crowd, and "Disco Down" and "Bully Boy" sounded incredible in the Picturedrome.
What's great about this place is that it doesn't matter where you stand. You've got a great view. As Shed Seven say: "See youse down the front", and wherever you are in this place, that's exactly where you are. It's a cosy venue, and a brilliant reminder of what Shed Seven gigs used to be like in the 90's. Sound doesn't get lost up in the rafters, or around wasted head space.  The gig was sounding great, and the atmosphere was superb. And when the Sheds are rocking the place out, it's an awesome place to be.
Still only giving us a teaser of songs from their latest album, "People Will Talk" was my song of the evening, and the way "Better Days" was performed just showed why that might eventually take over "Chasing Rainbows" as Shed Seven's calling card.
"Great form"
Frontman Witter was, as ever, on great form. His patter with the crowd never fails, and his chat with a 12 year old fan down near the front was pretty special.
It was giving me one of my favourite gigs of recent times. I started going to see Britpop bands in the 90s before they hit arenas and larger-scale theatres. Student Unions were where it was at, and this felt the nearest I've been to that since those days.
"Where Have You Been Tonight" and "Dolphin" sounded great. And the song that got me in to Shed Seven all those years ago "On Standby" went down a storm with everybody in the room. The people on the balcony were belting out the vocals on that one too.
"As strong as they've ever been"
After announcing they were about to go off and come back on again, a two song encore of "Getting Better" and "Chasing Rainbows" brought the gig to an end. And me and 689 others headed home happy. Once again.
Shed Seven are as strong as they've ever been. They're still cool, still look good, and still sound amazing. Proof, if it were needed, that the 90s gave us some of the best music we'll ever have. There's a lot of life left in Shed Seven yet, and 2019 promises to be another big year for the band.
Wherever Shed Seven play, they never let us down. They seemed to like The Picturedrome, and I just hope they come to Holmfirth again soon.