Newton Faulkner – Live Review – Leeds Beckett University
By Victoria Holdsworth, May 2019
It's a sold out crowd tonight, and having only ever seen Newton perform at festivals before, it's kind of hard to get an idea of what exactly a Newton Faulkner fan looks like. Judging from tonight's crowd, it would appear that this young man has managed something that very few others have achieved, which is to garner a fan base from every single age group and walk of life, like a modern day Pied Piper.
Tonight is a greatest hits evening, before he embarks on the next musical ventures in an already illustrious career – and having seen Mr Faulkner up close and more personal, I can tell you that the show he puts on tonight is nothing short of exceptional.
Opening with the vocally striking 'If This Is It' from the 2009 album Rebuilt By Robots, the strength in Newton's voice is incontestable. He appears incredibly relaxed upon his stage of gadgets, with the crowd already singing his lyrics back to him. It would appear we are in for an entertaining evening.
'Indecisive' is accompanied by orchestrated clapping segments, all woven together with outstanding musicianship. Already Faulkner has the biggest grin on his face – and it is almost contagious.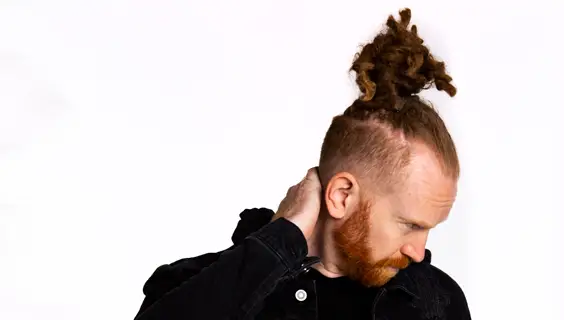 "Roof is about to lift off"
Before the show there had been some kazoos on sale at the merchandise stand and the exceptionally catchy 'Hit The Ground Running' gets the full buzzing accompaniment. More melodically brilliant anthems follow in 'Clouds' and 'Took It Out On You', that have further applications of audience musicianship. Newton appears to have taken great pleasure in this, and you can see how every single sound was sparking his imagination.
'Stay On My Fingertips' is the standout tune tonight. It has some Eagles-like gritty vocals, complemented by delicate rock blues licks curled throughout. Lyrically poetic, Faulkner's voice emphasisies each emotion to every word. It's a beautiful track.
A definite crowd-pleaser up next, and through the crowd volume you can barely hear Mr. Faulkner as he slips into his cover version of 'Teardrop'. By the time it ends and the first few notes of 'I Need Something' are played the roof is about to lift off.
Taking a moment to chat to the audience, who all want to speak to him at any given opportunity, he apologises for all the new equipment on stage. As he explains: 'I seem to be sat in a massive pile of stuff' – to which someone shouts the response: "It's called Leeds!"
"Sounding wonderful"
The entire set has blended together seamlessly, with one of his newer tracks, 'Don't Leave Me Waiting' filled with some slow funky riffs, and lapped up by the masses. There's a quick transition into 'Never Alone' with its damn-catchy beats. Another stand out tune 'Against The Grain' from the 2012 album Write It On Your Skin has dreamy vocals and strums that just cover you in utter loveliness and sunshine.  Then steadfast old favourite 'Dream Catch Me' ignites the entire room again, sounding wonderful live.
'Shadow Boxing' from 2015's Human Love is a strong tune followed by a little medley flurry, which ends on a little burst of 'No Diggity'. More musical silliness ensues, with a full version of the Spongebob Square pants theme tune (cue kazoos) before Newton tries to put on his serious face for 'Passing Planes'. "If all we are is passing planes/ should we try and try again/ I thought this was more than wasted pain/ now our love doesn't mean a thing." he sings.
Ending tonight's set with 'Write It On Your Skin' which showcases Newton Faulkner at his very best, you cannot help feel like you have been somehow seduced this evening. Wth his laid back style and charm, Newton Faulkner is just a good bloke; the type of guy to give you the shirt off his back or shoes off his feet.
This set has been twelve years in the making. I honestly couldn't have asked for more.