James – Live Review – Hull Bonus Arena
By @Steve Crabtree, March 2019
I think it was Forrest Gump who said: "A James gig is like a box of chocolates. You never know what you're gonna get."
And although I might have got my facts slightly wrong with that one, it's a statement that always rings true with the legendary indie band, especially on the last leg of their 'Living In Extraordinary Times' tour in Hull.
"Something special"
Tonight, they were giving the city's Friday night revellers something special.  Providing their own support act in way of an acoustic set before leaving the stage and returning to give everyone a gig that James are renowned for delivering. A mix of the big songs, a lot of the new stuff, and twists and turns in a set list that usually runs over the allotted running time.
The first set always promised to be something special for James fans, and was a huge draw for me.  A seven song intro to the gig which kicked off with 'Coming Home Part 2' – a stunning version of one of James' newer tunes. But the acoustic artistry of this treat wasn't resonating with everyone. Singer Tim Booth had to ask people to leave and head for the bar if they want to make noise through the delicate opening set. They were spoiling things.
And although his request was met with huge applause, it wasn't met with much compliance.  We did still enjoy 'All I'm Saying', 'Sit Down' and 'Just Like Fred Astaire'.  For us who were there for the music, the appreciation of this opening set was something quite stunning. Something unique.
"Come in to their own"
After a well earned 20 minute break, the band were back on stage. And this is where James as we (think) we know it come in to their own. But going back to Mr Gump… a James setlist is always going to throw up a few surprises. If want all the hits, you're better staying at home and watching them on YouTube.
If proof were needed of a non-predictive main show, they opened with 'Heads' – the incessant drum track from their new album. 'What's It All About' followed, and the hardcore were happy.  The 'day-trippers' perhaps were a bit confused. It was the 'Living In Extraordinary Times' tour though, after all.
'Ring The Bells' brought the show a bit more in to the mainstream. And 'Getting Away With It (All Messed Up)' provided an almighty singalong as it usually does.
It was a shame when Tim Booth brought 'Picture Of This Place' to a sudden halt as the crowd again affected the evening. A punch-up in the Arena ensued half way back, and Booth urged security to get in there quickly and sort it out. I think it was Forrest Gump that said about the fighters: "They must have drank themselves 15 Dr. Pepper's"… again, I might have a few facts wrong there.
But all it took on this Friday night was three or four drunks to take the shine away from a gig that, for the James fan, was going well.
High fives and applause to the band for getting that sorted. But although the trouble had been ushered outside, I think it left a bad taste in the band's mouth.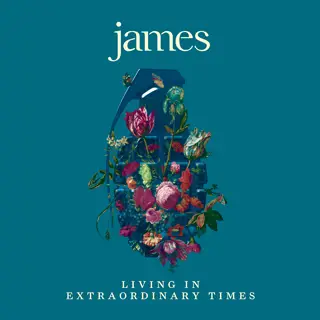 "We got 'Laid' in Hull"
James played on and in awesome fashion and were as professional as you'd expect, but I think the crowd situation had taken an edge off things. James weren't totally feeling Hull anymore.
But despite everything, "Moving On" sounded fantastic. And Tim Booth still stage dived across the standing area despite having a broken foot. Trumpeter Andy Diagram paid us a visit in tier-two towards the end of the show too.
To top it all off though, my friend and I were happy. We got 'Laid' in Hull. And when James pull that one out at a gig, it's like some of your numbers coming up.
Eventually, Hull Bonus Arena was harmonised again. James played 'Many Faces' as their final song of the tour, and in unison we and the band sang "There's only one human race…" with the hairs standing up on the back of your neck.
I've seen James a number of times over the years. And what should have been up there as one of the best was tarnished a little by events beyond the band's control.  But I still enjoyed the gig. And James proved once again why they're one of the best and most important bands that the UK has ever produced.