Glenn Tilbrook – Live Review – Leeds Brudenell Social Club
By Victoria Holdsworth, October 2018
As the cold set in, the Brudenell in Leeds is tonight a charitable hive of activity – and all because of one man. The main act this evening is one of the greatest singer-songwriters of his generation – and his band Squeeze aren't too shoddy either. However, on this tour, Glenn Tilbrook is out on his own… and he's a man on a mission.
His current tour, which includes tonight's gig, is to promote awareness and gather donations towards The Trussell Trust, a charity that supports a network of food banks around the UK. Every single venue on his current tour has a food drop point and collection boxes for this worthwhile cause. Glenn himself has also pledged to donate all profits from his merchandise, including an exclusive 4 track EP, to this organisation – so it's a pleasure to be a part of it.
Taking to the stage, Glenn speaks to the crowd about the situation and the cause he is supporting. He says: "It is shameful that in the 21st century there are people that can't afford to put food on the table – and what are the government doing about it?"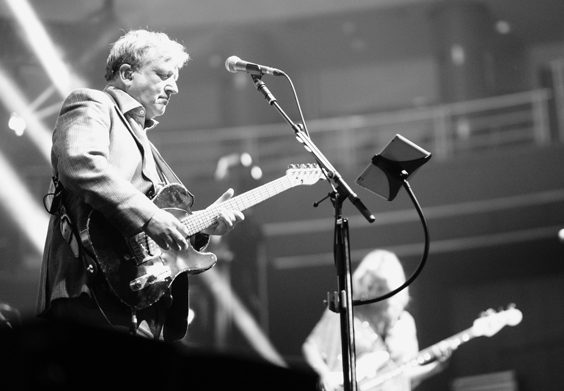 "Stripped back and vulnerable"
There's a firm nod of appreciation to the support act, the talented Stephen Wilson who is quick to say that he is definitively not the former lead singer of Porcupine Tree and apologises to all who attended to see him under that guise, which is more than amusing – but he's certainly a talent to look out for.
There seems to be quite a few faces in the crowd who are a little bit taken aback to see Tilbrook with just a guitar, so stripped back and vulnerable. However, the faces soon change with a great variation of old and new performances tonight, especially the Squeeze tunes, which are like a visit from an old friend, and a few covers thrown in for good measure.
Kicking off with 'Is That Love?', the crowd immediately goes from zero to 100 and it is certainly a singalong which sets the benchmark for the rest of the evening. The look on Tilbrook's face says it all – sheer enjoyment.
'Little Ships' from the album Pandemonium Ensues follows in complete contrast. It's a song about letting go of your children, so Glenn tells us, and is stunningly beautiful and poignant, Tilbrook's voice sounding incredibly rich after all these years.
"Excellent form"
As with his partner in crime, Chris Difford, the main man this evening is a great story teller, and his banter with his audience is second to none. Describing a time when he got arrested outside a famous London Art Gallery by rearranging eight bricks, he rips into one of his newer tracks, '0-60', from his new EP. His wordsmithing talents shine through, more cutting and acidic than ever, with the line: "I'm not a lawbreaker/I'm a melody maker/From a geezer to an utter twat/Nought to sixty in three seconds flat" Another standout gem tonight is 'Untouchable', taken from the album, Transatlantic Ping Pong.
It is soon back to lifting the roof off with a sing-song, to probably one of the most recognisable Squeeze songs from their repertoire, 'Up The Junction'. If I close my eyes, it is almost like being transported back in time to 1979 with Glenn's voice in excellent form, taking many people in the audience on a magical journey through musical history. The song leads them straight into 'Cradle To The Grave', a song featured in the TV sitcom about the life of Danny Baker, and this is lapped up, producing some rapturous applause.
"Blistering performance"
The evening then gets more serious, as Tilbrook dons his famous electric guitar, and rips into a remarkable cover version of' I Hear You Knocking', immediately followed by 'Oh Well', one of Fleetwood Mac's masterpieces, and a blistering performance of The Kinks' classic 'Tired Of Waiting For You' – it's a trio of timeless classics.
The best song, though, for this and many other nights, has to be 'Labelled With Love', with Tilbrook showing off some sublime guitar skills.
There are quite a few call outs from crowd members for 'Cool For Cats', but Glenn states he is no longer going to do that particular song, unless someone gets up on stage and does the vocal part of Chris Difford. With hands shooting up in the air, our volunteers Janet and Graham climb on to the stage. Later, another audience member goes head to head with the main man on 'Some Fantastic Place', leaving the brave guy utterly overcome, as he comments that he has sang with his hero.
"Memorable"
'Third Rail' and 'Annie Get Your Gun' follow and the crowd are worked up even more, before 'Black Coffee In Bed' and 'Slap & Tickle' continue the faster-paced half of the set.
'Pulling Mussels (From The Shell)', another Squeeze great, sounds absolutely outstanding, as it storms through the Brudenell into 'Another Nail In My Heart', a forgotten classic.
Glenn ends his set and says his thankyous and goodbyes to his throng of loyal supporters. But his absence does not last long, as the crowd roar him back onto the stage for three more tunes – and he picks them well.
'Tempted' is, frankly, one of the best songs ever written, and sounds as current as ever (even if I do prefer Difford singing it). Then 'Take Me I'm Yours' and 'Goodbye Girl' end the show.
The ethos of the evening was about intimacy, and almost everyone was buzzing about what a memorable gig tonight was for them – and all the while doing great things to help a great charity. A definite 'I was there' night in icy Leeds.
images: Graham Munn (unless credited)