Bingley Music Live 2018 – Live Review
By @Steve Crabtree, September 2018
The summer returned at the weekend, and Bingley lapped up every ray, as its annual Music Live festival took place.
As usual, Myrtle Park was the setting for three days of great music, great people, and incredible vibes. Now firmly established on the festival circuit, Bingley Music Live once again handed us a very decent line-up.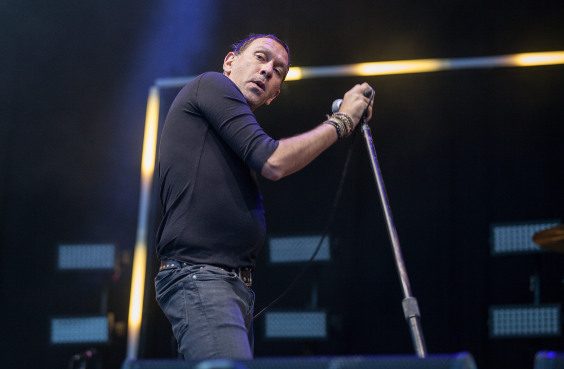 "Raucous Performance"
My friend and I, plus thousands more descended on the park on Friday afternoon. The gates were a bit late opening up, but once they did, a bright and brilliant atmosphere started building. At risk of missing anything, there was a convergence straight to the main stage. And the first band we got to see were Liverpool's Lightning Seeds. Ian Broudie and his band have been regulars on the festival circuit in 2018, and 'Life of Riley', 'Lucky You' and 'Pure' sounded extra special in the baking hot sunshine. It was a fine way start to the weekend.
In a strong line-up for the shortest day of the three, Gomez and The Sherlocks played impressive sets. But it was Friday headliners Shed Seven who laid down an early marker for the performance of the weekend. The Yorkshire indie legends, who just seem to get stronger with age gave a raucous performance that included 'Room In My House', 'On Standby' and 'Disco Down.'
With a fiery 90 minute set, they were a perfect choice to bring the curtain down on day one.
"Injecting a bit of fun in to the day"
Saturday brought more great weather and a lot more great music.
Spector pleased the masses after lunch, and former Spice Girl Melanie C later surprised me with a brilliant set. Some of her newer stuff came out alongside 'Never Be The Same Again' and 'When You're Gone.' Lively and bubbly, she was injecting a bit of fun into the day. She covered 'Sing It Back' which went down well, before performing '2 Become 1' and 'Say You'll Be There' to a lot of cheers. I didn't see one mouth not singing along to those two.
Elvana are a band that we were sad to miss when we went exploring. We spoke to so many people who mentioned how brilliant they were, and they're certainly someone we need to check out. Elvis Presley performing Nirvana? Fantastic. Perfect for a festival.
There have been a few good changes to Bingley Music Live this year. Most notably, the banning of taking your own chairs on site. Some weren't happy about this, but for the majority of people it was a master stroke. Last year the simple task of navigating to the stage area was difficult because of the seats, and proved to be a bit of a bug bear.  Applause to the organisers for that one, and well done to them for improving the bar queuing system too. On our many trips to the bar over the weekend, we didn't have to wait longer than three minutes to get served by fast and friendly bar staff. Often we had no wait at all.
Headlining for the Saturday was Jake Bugg, who followed The Cribs. Both acts were good, but I'm not sure if they were great choices for top-of-the-bill on a Saturday night. Undoubted talents, but I quite didn't feel that they sent people home with a festival type buzz.
"One of the best female voices in UK Music"
Then Sunday came. The final day. And so far, it'd gone far too quickly, even with having the luxury of going home to your own bed every night.
Noel Gallagher was the name on everybody's lips for day three. Understandably. Brilliant to get him in as the final act at Bingley Music Live, but there was a whole day of music before him. And the Sunday was pretty busy.
Local band Marmozets thrashed out an hour long set, much to people's pleasure. The Bingley-based group astounded lots of people, and certainly made their mark on the ear-drums.
I was surprised to find Nerina Pallot lined up on the Discovery Stage over the main one. A well-established artist with a huge back catalogue and one of the best female voices in UK music, we went to check her out at around 6pm. We only wandered to that part of the site occasionally over the whole of the three days, but it certainly seemed at its busiest for Ms. Pallot.  She sang 'Idaho' beautifully, and enjoyed leading a clap-along to 'Put Your Hands Up'.
Ride are a reformed band from the nineties, and they put on a good show as we tried to get a position as close to the main stage as possible. The end of the night was drawing closer, and everybody had the same idea as us. The front was rammed. And getting rowdy. Guess who was coming next…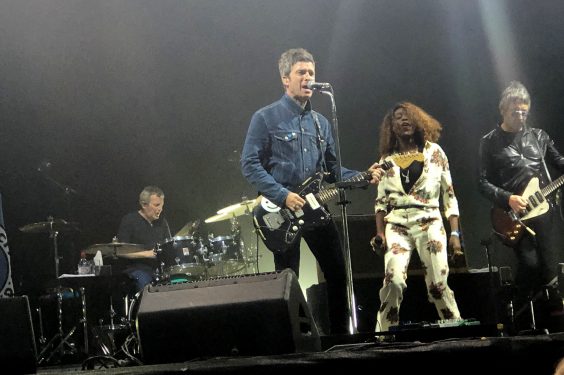 "Bingley was alight"
We were a crowd who'd had three amazing days in Myrtle Park. And when Noel Gallagher came on stage, Bingley Music Live was alight. Gallagher oozed cool, and we oozed awe.
'Holy Mountain', 'If I Had A Gun' and 'She Taught Me How To Fly' were belted out. But the volume seemed to have been turned down a little bit for Noel Gallagher. Nobody could understand why. Speaking with others on site, and also checking out social media posts it was confusing as to why the headline act was quieter than others on the day.
Nevertheless, Noel rocked. Oasis hits such as 'Little By Little' and 'Whatever' were outstanding – and as his allegiance to Manchester over Yorkshire brought about a good spirited argument between artist and crowd.
What a way to end this year's festival. We left Bingley on a high, and as we checked out of Myrtle Park, thousands sang 'Don't Look Back In Anger' in unison. A memorable way to end a memorable weekend.
Bingley festival has grown tremendously, and each year it just gets better. Some of the locals may not be pleased about that. This used to be their baby.
But it still has its identity, and the majority of festival goers appreciate everything that goes on here once a year. The brilliant acts that are brought in, and the tremendous value for money that a Bingley Music Live ticket is.
2018 has been touted as the best 'Bingley Fest' yet. I'm already looking forward to Bingley 2019.
Images: Frank Ralph (frankralph.co.uk) & Heidi-Mae Summers.