Quantum of Solace (2008) – Film Review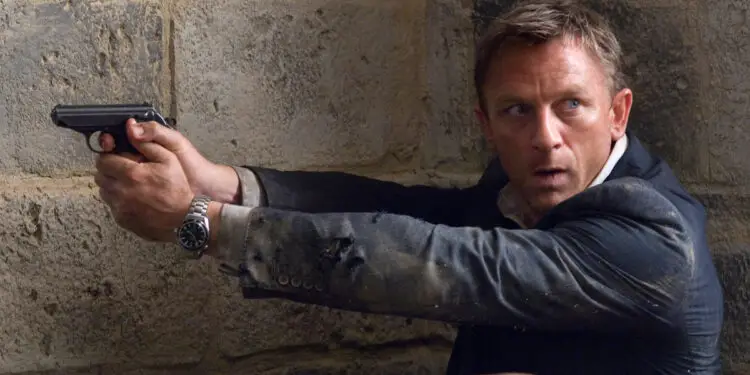 Director: Marc Forster
Cast: Daniel Craig, Olga Kurylenko, Mathieu Amalric
Certificate: 12A
by @Roger Crow
When it comes to wearing some nice kit, 007 really looks good in Marc Forster's lone stab at the Bond saga. I never noticed until a mate pointed out that Daniel Craig is styled after Steve McQueen in this troubled offering. Or that his costumes are by Tom Ford.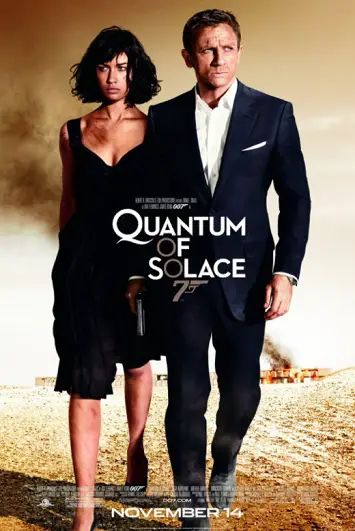 This is supposed to take part minutes after the end of Casino Royale, but there are major continuity errors with Bond's attire. Not that you notice straight away as a car chase looks like it was edited by someone with attention deficit disorder. Some of the edits are so tight, barely has a scene registered and they've cut to something else.
"Fast and chilling"
The opening titles (by MK12 rather than recent 007 regular Daniel Kleinman) are splendid; I also love the bold use of location fonts throughout the film. That Jack White and Alicia Keys track 'Another Way to Die' is good not great. It's certainly no 'Seven Nation Army' alas.
The action scenes, especially the close combat stuff, is orchestrated by Dan Bradley, the man who made the Bourne films looks so phenomenal. And it shows.
It's brutal, fast and chilling, especially when Bond waits for one killer to bleed out.
Judi Dench returns as M, and naturally she's in default angry mode, like she always is with Bond. "Oh 007. You've saved the world again, and I'm miffed that you did the wrong thing," kind of attitude. It's only because Judi is so phenomenal at selling the script that these scenes work so well. Joining the merry MI6 band is Rory Kinnear as Tanner. Great actor, but I preferred Michael Kitchen's take on the same character. Sorry Rory.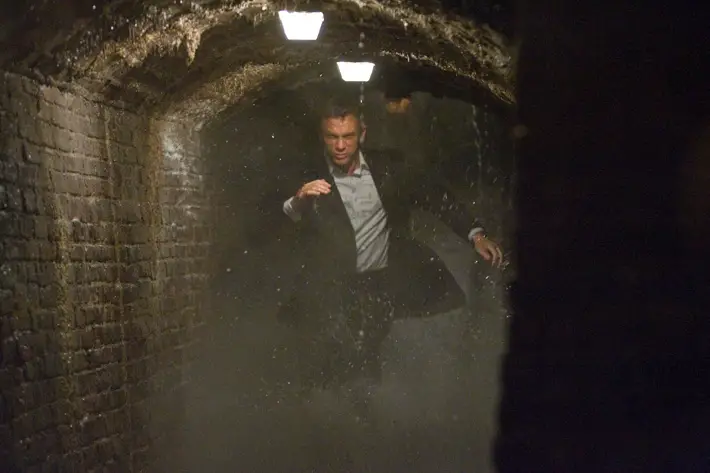 "Confusing"
MI6 now seems to have tech from the Starship Enterprise as all their flashy graphics look like something from the Next Generation. Not that it helps sell a muddled story. This one was shot during a writer's strike, and boy can you tell. There's a scene at an opera which is flashy, arty and features the much missed Paul (Friday Night Dinner) Ritter, who passed away recently. Again it's cut to the bone, and at times looks like a trailer for the movie. Years later Mission Impossible: Rogue Nation crafted an opera-based action scene so perfect, it makes this look average by comparison.
Bond also makes the mistake of talking to himself, which weakens things considerably.
The bad guy is Dominic Greene (Matthieu Amalric), who wants to control the water supply in Bolivia. Or something. To be honest it's so confusing, and the stakes have never seemed lower, that I got bored with the nefarious shenanigans.
And don't get me started on the waste of Gemma Arterton, who is brought in as token eye candy, despite being capable of extraordinary depth and range. Within five minutes, her character Fields (Strawberry Fields) has given Bond a look like, "Actually I do quite fancy you," despite being a woman of principles. She ends up semi-naked, and then an oily corpse in an obvious nod to Goldfinger. As a side note, if you want to see how good Ms Arterton is, watch The Disappearance of Alice Creed, and see what a talent the film makers squandered.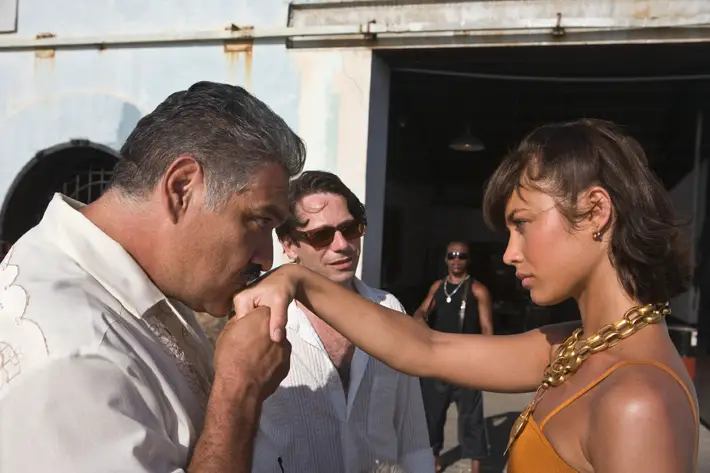 "Fine action"
Thankfully Camille Montes (Olga Kurylenko) survives longer. She's out for revenge against General Medrano (Joaquin Cosio), the man who killed her family when she was a child. As Bond is still in love with the late Vesper, he doesn't bed her. That's probably one reason, though his poor, wounded testicles may be another. Just the thought of having sex probably made him feel a bit sick, though he probably managed to "keep the British end up" with Ms Fields at least.
(I'm convinced the 007 franchise lost its way on the pun front when the Carry On movies ceased production).
In the midst of all this carnage is Giancarlo Gianini, who was so good in Casino Royale, and in this movie, but he is also wasted. Literally.
On the plus side, Jeffrey Wright is also back as Felix Leiter, and look out for David Harbour, years before his star-making turn in Stranger Things.
There's a fine action scene on a boat with David Arnold's splendid track 'Pursuit at Port au Prince'. In fact every cue in the movie is rather good.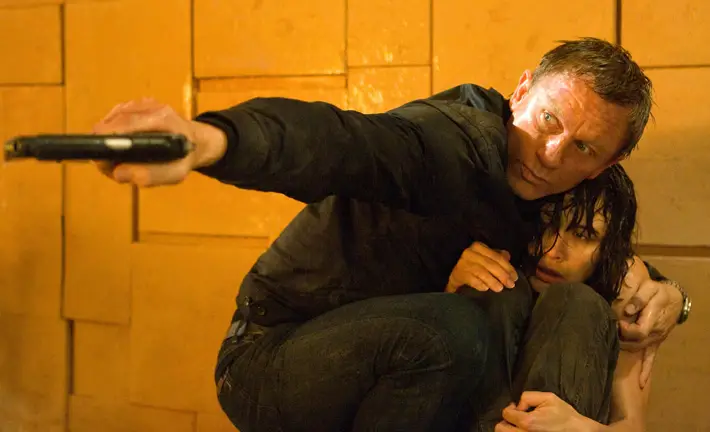 "Sense of closure"
A life-or-death scene on a plane is fine, but the free fall stuff (shot in a wind tunnel) looks a bit rubbish.
And there's an explosive finale at a rather elegant complex. However, a very dodgy shot, which looks like a nod to Basic Instinct, should definitely have been left on the cutting room floor.
During an epilogue of sorts, the loose threads from the previous movie, and Vesper's reasons for betraying Bond, are clarified. By this point I'd forgotten all of that. However, if you're a fan of TV series Castle, look out for Stana Katic in that brief scene.
I like the final shot, and there's a definite sense of closure as Bond wanders off into the night. At 106 minutes, this is the shortest 007 offering, and also one of the most muddled. Quantum of Solace is basically a series of good set pieces stitched together with a lacklustre villain and plot. However, the location shots are terrific in HD, and do little to cure my wanderlust.
For all its faults Quantum still did impressive box office numbers, but even that tally seemed like small change when the follow-up was released…
Quantum of Solace is currently streaming on Amazon Prime