Child 44 (2015) – Film Review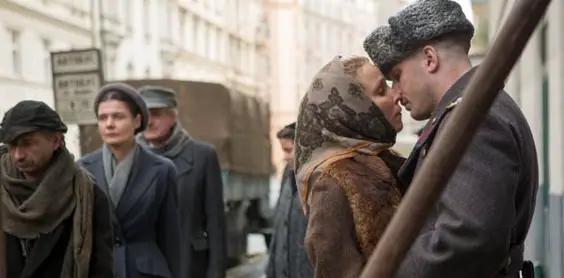 Director: Daniel Espinosa
Cast: Tom Hardy, Noomi Rapace, Gary Oldman
Certificate: 15

by Jen Grimble
When an acclaimed novel is scripted for the silver screen, triumph often lies in how far the film honours the original book. Those that fail to do so are sometimes left flailing. It is here that Child 44 finds itself. Based on the multi-award winning novel by Tom Rob Smith, the movie is a complex riddle. Viewers must spend its entire length decrypting it. Despite iconic director Ridley Scott (Alien) producing, and Daniel Espinosa (Safe House) directing, the movie falls short.
Child 44 is a murder-mystery set in Soviet Russia. But the final cut lacks the necessary suspense to make it a decent thriller. It polishes itself up with beautiful, post-war Czech scenery and an international all-star cast. But the screenplay by Richard Price (The Colour of Money) has too many sub-plots to work efficiently. Child 44 explores murder in a time when killing was seen as a capitalist disease. In Russia, during Stalin's reign, anyone who suspects or investigates such foul-play is either exiled or executed. The premise sounds simple enough. But everything tangles the further into the story we delve.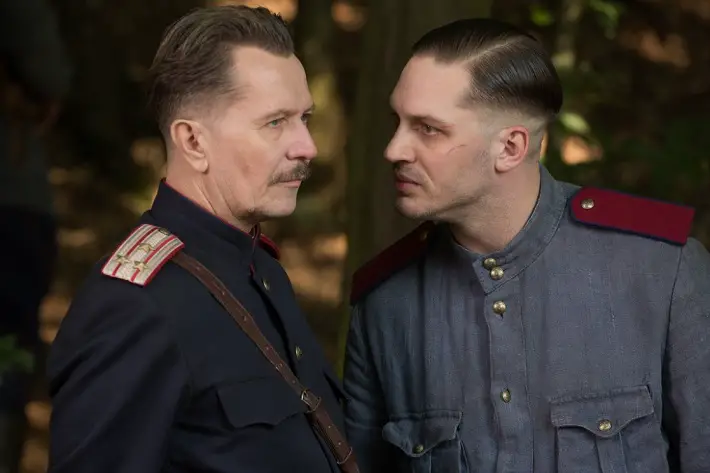 "Masses of information that disorientates the audience"
Our attention is mostly on Leo Demidov (Tom Hardy). He is a once-celebrated Soviet Intelligence Agent working in 1950's Moscow. His heroic status tarnishes when his wife, Raisa (Noomi Rapace), suffers accusations of being a spy. The establishment banish the couple to an industrial town. Here, simultaneously, several brutal child murders take place. The bodies are found surgically dissected and abandoned by train tracks. Demidov is determined to find the culprit and regain his colleagues' respect. With the help of Raisa and a local General, Mikhail Nesterov (Gary Oldman), Demidov investigates the murders while attempting to keep the Soviet establishment at bay.
This is where the story peaks. But it is also where it dismantles. As other seemingly irrelevant story additions appear, the main premise, and any sense of mystique, is lost. This inevitably makes for a fairly tedious and messy final product. Successful thrillers like The Silence of the Lambs or The Girl with the Dragon Tattoo (2009) thrive in their puzzle-piece, plot-building techniques. Child 44 lacks both. The unrealistic Russian accents that the whole cast adopt does not help either. Hardy does the best job of the lot. But Oldman struggles in an unfulfilling and redundant role.
Child 44 is hard to summarise, because the masses of information within the story confuse and disorientate the audience. Price and Espinosa somehow create a sense of unease. One is left wondering where the plot is heading. Even worse, you wonder where the film will end. A serious lack of clarity and cohesion are its main issues. Prepare for uncomfortable viewing. Not even a killer cast, nor beautiful cinematography, can save Child 44.
5/10