Brotherhood of the Wolf (2001) – Film Review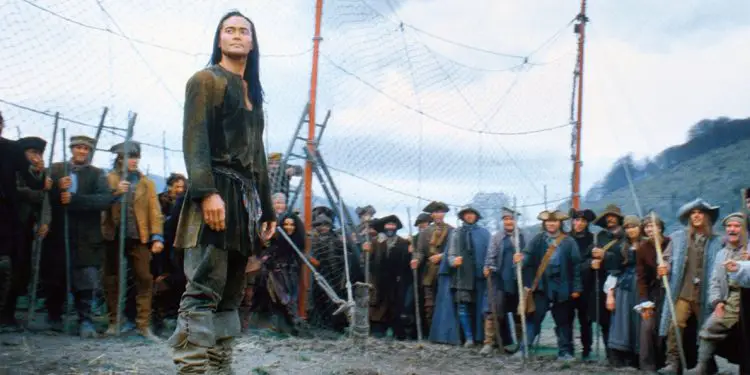 Director: Christophe Gans
Cast: Mark Dacascos, Samuel Le Bihan, Jérémie Renier
Certificate: 15
By Roger Crow
Time can be a strange thing. Films you think you've seen turn out to be nothing of the sort. Take Brotherhood of the Wolf for example. This Gallic historical epic mixing martial arts and epic scenes reminiscent of The Last of the Mohicans or Barry Lyndon was heavily plugged in magazines back in the day, and yet I never did see what turns out to be a stunning production.
(I did see director Christophe Gans' live action manga adaptation Crying Freeman which also starred Mark Dacascos, and can't recall a thing about it, unlike his atmospheric version of the video game Silent Hill, which is truly bizarre).
The new Brotherhood of the Wolf 4K restoration looks phenomenal. Any grime or dirt from the original print has been carefully removed, so for a generation of French film lovers who think they've seen the movie, like me, chances are they'll be pleasantly surprised.
The plot: during the reign of Louis XV an isolated district of south-central France is haunted by the Beast of Gévaudan which has savagely killed over 100 people, mostly women and children. As panic sweeps across the region, the King sends his finest military minds, the scientist and adventurer Grégoire de Fronsac and his martial-arts-trained Iroquois blood brother Mani to flush out the Beast and kill it.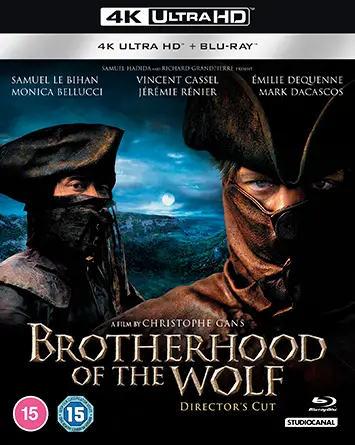 "Excellent cinematography"
The cast includes Samuel Le Bihan, Jérémie Renier (In Bruges), the ubiquitous Vincent Cassel, and ever dreamy Monica Bellucci (Spectre).
Costume design by Dominic Borg won him the 2002 César, while excellent cinematography by Dan Lausten was an early indication of his skills years before his Oscar nomination for The Shape of Water.
Fans get plenty of extras with the DVD version, including the Director's Cut (2022 restoration); Audio Commentary with Christophe Gans, and another yack track with Vincent Cassel and Samuel Le Bihan.
Same again for the two-disc Blu-ray and four-disc 4K UHD versions, including interviews, featurettes and more. 
I love a genre-bending epic, and while martial arts and period drama are uneasy bedfellows, this cult offering is beautifully crafted, and the latest version is well worth a look for lovers of both genres. 
Magnifique in fact.
Brotherhood of the Wolf is on 4K UHD, Blu-ray, DVD and digital now