Reginald D Hunter – Live Review – Leeds City Varieties
By Victoria Holdsworth, February 2018
Reginald D Hunter ambles, unannounced, to the microphone and awaiting chair; the epitome of gentle, Deep South charm – and clearly still suffering the effects from his broken leg incident last year – apparently alcohol, showers and ex-girlfriends do not mix.
'Some People V. Reginald D. Hunter' is not for the faint-hearted. Although Hunter has become famous for his social commentary, satire and observational comedy, his irreverent, aggressive delivery has somewhat softened this evening, but the punchlines are still very hard hitting.
His talent for enthralling his listeners with slice-of-life experiences and exploring the fantastically ridiculous aspects of the world around us makes for excellent juxtaposition, offering a fresh and funny viewpoint on issues of politics and identity.
Reginald tells us that there is an elephant to address in the room tonight. He mentions the name Trump and half the audience wince, the other half vocally air their disapproval as Hunter apologies on behalf of all Americans and tells us "We fu*ked up big time!" and who does he blame? Heartland Americans, and tells us all why, in a very cleverly constructed and hilarious observational rant.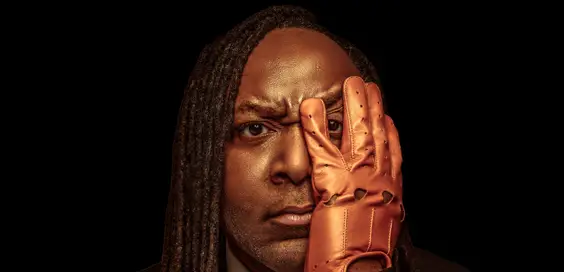 "Crowd falls silent"
Tonight his delivery feels like I'm sat in the story corner, waiting to hear tales of his crazy life and his philosophies on human nature. He has the unashamed knack of saying what most are thinking, but rather than a lot of comedians that are considered to be controversial, he can back his arguments up with statistics and facts to support his arguments.
Yes, he touches the issues of Brexit, but not in the way you would expect. He does it through a tale of parental advice, which is hilarious, and whilst he continues on his family dynamic anecdotes, the whole crowd falls silent, hanging on his every word. He speaks with such love and respect about his father, it's almost a shame they're not a double act, because his father sounds as equally entertaining.
There is a kind of break in the rehearsed material and he takes time to chat with his enthralled audience and tells us he is writing a new book, his observations of the differences between day and night people, and about teasing his nieces about how we torture people sending them to Coventry.
One touching moment in the show, which he warns us isn't meant to be humorous, is about Harper Lee, the author of To Kill a Mockingbird and why she didn't write a sequel.
"Sharp"
"What would it be called, 'To Kill a Mockingbird II', 'Skinning the Budgie'?!" but he goes on to describe how she was "literary-ily raped" when she got dementia and her estate published her earliest manuscript called Go Set a Watchman. This was a work she never wanted publishing.
"Told you it wasn't funny", he says, when the audience merely claps, the poignancy seemingly going over some people's heads.
Continuing on the race theme, he recalls a very white publishing party where he describes a 75-year-old woman he bonded with as "posher than anything you've seen on Antiques Roadshow". After some nips of the hard stuff from her hipflask, he shares a jazz cigarette with her and they seemingly bridge two very different worlds, and it is very sweet, and gentile until you discover his friend's 45-year-old marriage was destroyed by a gay threesome and you cannot help but marvel as to how the hell you even got to that point!
The show is an endless stream of clever humour and sharp punchlines. He lets us in to the secret that he has a lifelong fear of a dead white woman being found in his vicinity, his epic engagement of white supremacists on Twitter, and that out of his six go to Twitter racists, it would appear some of his educational efforts seem to be paying off. The comedian also reveals how his father thinks he uses comedy as a cover up for being an international drug dealer, in a tale that will have you doubled over with laughter.
"Perfectly crafted"
Reginald D Hunter has a compelling charm and has such an earnest personality, with an undeniably strong stage presence. I love that he attempts to constantly push boundaries.
There is a funny moment towards the end of the show when he shouts his PA to grab him a drink and explains he would go off and come back on again, however because of his leg he's finding it hard. "You should get yourself one of these white men! They're better than they're cracked up to be," he quips.
At the start of the show tonight he told us about an unfortunate incident in Ireland, when a couple stormed the stage over a joke he had performed, and attacked him, and he slows down his delivery to fulfil his "contracted" hour, he says that our 'Bonus Track' is going to be the joke that he told them, and he hopes we still love him afterwards.
To be fair to Reginald, I have heard him come out with far more potentially inflammatory jokes and it wasn't that bad. I would urge anyone to go see Hunter as he is thoroughly entertaining, and his latest show is a perfectly crafted performance, that not only amuses his audience but also challenges some of their assumptions on people and life.
The only disappointment was that the show had to end.