Al Murray – Live Review – York Grand Opera House
By @Roger Crow, November 2019
'Al Murray. You appear with the welcome inevitability of a much loved season'. Anyone who knows their 007 movies will know that's paraphrased from my favourite James Bond movie, currently celebrating its 40th anniversary. Great movies like Moonraker stay with us a lifetime, as do comedy gigs.
Not that I know what to expect when I settle into my seat at York's Grand Opera House for an evening of laughs. With a face like a baby who's just filled his nappy, Al has a glint in his eye. It's just gone 7:30pm and while I expect a warm-up act to suffer the indifference of a crowd waiting for the main event, there's none of that.
With a simple set, three vertical backdrops and his trademark 'bar', Al launches into a song. A very sweary song that sets the tone for the rest of the evening. Those offended by the Oedipal expletive are not going to enjoy the rest of the night.
In the routine that follows, he doesn't so much use the ongoing 'B' word as a one-off gag, but the focus of the evening. And little wonder. Murray's analysis of Blighty leaving Europe borders on genius.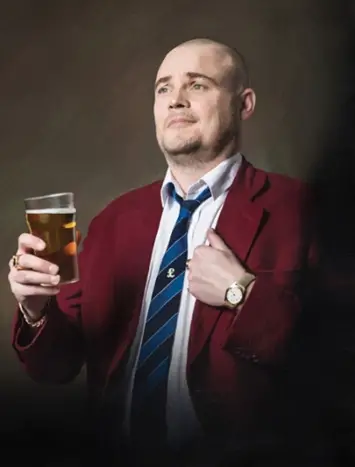 And there are many moments during the evening when Al reaches the dizzy heights of a comedian at the top of his game. Some stand-up routines can face a lull after 20 minutes when energy flags and gags don't land, but no such problem here.
"Enviable skill"
With assorted members of the audience to use as his comedy foils, Al sustains the comedic momentum throughout the show. The first half is an hour-plus set which generates plenty of belly laughs from the gathered masses.
He shuts down a fame-hungry member of the audience beautifully, and a running gag about seducing a couple of ladies in the audience with a blinking routine is the gag that keeps on giving. A breathless set towards the end about three things to live by is also expertly handled.
Some comedians are like milk floats puttering around on stage with just enough jokes to fulfil their contract. Then there are the Ferraris of the comedy circuit who prove that when they're not on TV propping up panel games, they can work a crowd with enviable skill. No prizes for guessing which kind of vehicle Al Murray is.
His Pub Landlord creation left me cold when Al first arrived on the scene all those years ago, but it's the bloke behind the character who's far more fascinating. The smartest guy in the room generates some of the biggest laughs of the year, and for this punter at least, made it well worth the trip. If you're off to pending dates in places such as Lincoln and Doncaster, you're in for a treat.
Twenty five years after the National Lottery teased it would make us millionaires, at least 'Landlord of Hope and Glory' offers one of the richest nights out. In a packed-out theatre full of laughter, there are few better ways to forget your problems.
A recurring quote about Alexander the Great keeps coming back to me as our host takes the obligatory shot of him and us, the delighted audience.
To paraphrase Hans Gruber in Die Hard: "And when Al Murray saw the breadth of his domain, he wept… for there were no more worlds to conquer.'"
The only tears tonight are of pure laughter. Cheers Al.