Did I Ever Tell You This? by Sam Neill (Audiobook) – Review
By Roger Crow
It's hard to believe Sam Neill is now 75. When he announces the fact on the audio version of his new memoir, I have to double check. In my head, he's still that fresh-faced guy who wowed the masses as the star of Reilly, Ace of Spies back in the early 1980s.
Of course there have been so many other projects since then, including the Jurassic Park saga, which kicked off 30 years ago.
Throughout his autobiog, all 12-and-a-half hours of which I sit through in about three days, the amiable actor and wine-maker gives us the lowdown on every aspect of his life, including the fact he's currently being treated for blood cancer. Proof if ever you needed it, that life just is not fair.
His discovery of this fact spurred him into action, and over the course of around six months, he penned that fascinating assessment of one man's life.
A few years ago I was lucky to visit some of the New Zealand locations where a couple of his classic movies were made, and get a fascinating insight into how The Piano was put together.
It turns out Harvey Keitel did little to endear himself to Neill, and as she was playing a mute woman, getting on with Holly Hunter, who it seems had gone full method, was also a little tricky. He also waxes lyrical about Hunt for the Wilderpeople, which is another of the many great projects from his back catalogue.
"Mix of light and shade"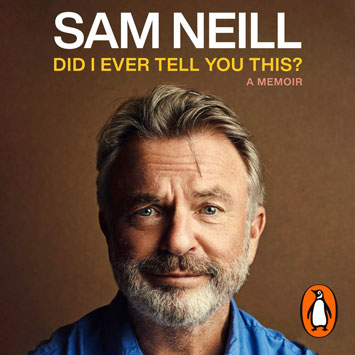 And as Neill now seems like a man willing to overshare, he tells us perhaps a little too much about 'purging', which involves a desperate need to…, well I'll leave that for you to enjoy.
Throughout lockdown, Neill's Instagram videos attracted a new wave of fans, and little wonder. His views on life, and love for it, proved infectious, and listening to those unmistakable tones for half a day, it's such a shock when the book is finished, I snap back to reality.
Yes, I could have done without the long list of actresses he worked with, which may have just been a case of padding to get the word count up, but for the most part this is a compelling study of his extraordinary life, including fascinating anecdotes about John Gielgud; Sean Connery; Eddie Murphy and his entourage trying to meet Connery, and James Mason. The latter thought Neill was/is a terrific thespian, and perhaps gave him the courage to believe in himself. Had he not, there's a chance the acting world would have been robbed of one of movieland's best-loved stars.
There's one moment during the audiobook when Neill is moved to tears, and it's hard not to sympathise. All good autobiogs need a mix of light and shade, preferably with more laughter than tears, and this has plenty of both.
I love a good page-turner, but sometimes, you need to hear the author's voice, and not just as you filter it from page to brain. I may even buy a bottle of his wine, and sit through the whole thing again. Cheers Sam.
'Did I Ever Tell You This?' by Sam Neill is published by Penguin