An Interview with Anthony Clavane
Anthony Clavane's book, Promised Land: The Reinvention of Leeds United is a brilliant and compelling modern history of the city of Leeds and its football club. Combining the deeply personal with the sociological, Clavane reveals the extraordinary links and parallels that the city shares with its famous sporting temple. Matt Callard caught up with the author for this quick Q&A…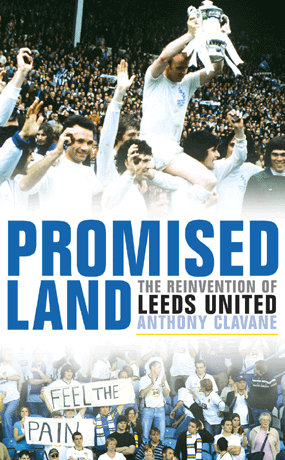 'Never a dull moment' – at least Leeds United fans can say that, can't they?
Absolutely. The team has had more highs and lows than many other teams. There is no in-between with Leeds. We are either flying high, or about to fly high, or else descending the depths. There is something about Leeds, something about West Yorkshire, that explains this narrative. The last fifty years has been a rollercoaster ride – and my book tries to reflect this. But I'm not just talking about the team, I'm referring to the city and the county as well. When Leeds United soar, the city and region have boomed. Likewise, in times of recession, LUFC has tended to plummet.
"Edgy, northern iconoclasts"
Your 'Rise of Northern Man' thesis demands a book in itself – we liberated ourselves, burned brilliantly and briefly… then watched from the sides as the establishment retook the citadel. The parallels with Leeds Utd are extraordinary, aren't they?
1960 changed everything. The north liberated itself – and Britain as a whole. The kitchen-sink literary movement, which fed into the classic social realist films made between 1959 and 1963 – Room At The Top, This Sporting Life, Billy Liar etc – was virtually a West Riding of Yorkshire movement. John Braine, David Storey, Keith Waterhouse, Stan Barstow…
I could name a first eleven of west Yorkshire writers. Many were from Leeds and its surrounds. You are right, the establishment – sadly – retook the citadel. And, yes, the parallel with Leeds United was extraordinary. It was a golden age of northern literature, music, film, arts and football. Sadly this golden age is over. Northern Man is a dying breed. But, in terms of new writers, there is hope. We have the likes of David Peace, Caryl Phillips, Kester Aspden, Rob Endeacott, Tom Palmer, Alice Nutter; a new generation of edgy northern iconoclasts who are, hopefully, about to storm the bastions of literature. The mighty Peace, of course, has already shown the way.
"Got carried away"

You ask the question 'If we'd known about Leeds Sporting's overspending, would we have cared?' Weren't we all 'living the dream' at that time?
I am not trying to condone or excuse what Leeds Sporting did. Their financial recklessness scuppered the hopes of a new generation. Look at Milner, Lennon et al now, starring in the Premier League week after week. One minute we were in heaven, the next in Hades. But all I'm saying is it was part of the narrative of Leeds.
The team has had three eras – the 1960s to mid 70s, the early 1990s and the late 90s – when they have burned brilliantly and then imploded, just at the point of entering the promised land. I think we all got carried away in the Ridsdale era. Of course, in retrospect it was madness. But I can't remember fans at the time complaining too much, myself included. The O'Leary-Ridsdale era was a heady one, and I really felt Leeds would, finally, replace Manchester United as the nation's top team and be a fixture in the Champions League.
"Paranoia"
There's a suspicion that the London media have always been out to hurt Leeds – as someone who comes from the industry's beating heart – are we just paranoid?
Every provincial team that has had periods of success has thought the 'London media' has been out to get them. There are a few of my fellow hacks who can be condescending towards anyone outside of the M25 corridor. And Leeds United are, for various reasons, hated by many southerners. But there is no plot against Leeds. Why would there be? I distrust all conspiracy theories. Big clubs always think the media is biased against them – Alex Ferguson is almost Revie-esque in his paranoia.
'Promised Land' by Anthony Clavane is published by Yellow Jersey Press